We love nature as much as the next guy.
Provided the next guy loves nature but is constantly striving to enjoy the outdoors without being inconvenienced by things like sleeping outdoors or existing in a climate that's not perfectly attuned to his body.
Luxury safari tents are always an option, but they're affixed to an exact spot. And sometimes we like to move.
So the luxe new Pebble Flow might be the answer. It's a spacious, comfortable and ridiculously smart camper that does all the heavy lifting for you, so you can stick to what you're best at: refilling drinks. It's available to preorder now.
The all-electric camper measures 25 feet long and has panoramic windows to bring the outside in. There's a functional kitchen, a bathroom with a full-size shower and a bedroom with a queen Murphy bed that folds up to reveal workspace with a desk and chair. The battery and integrated solar panels can power all the appliances to keep you living comfortably off the grid (while very much on the grid) for seven days.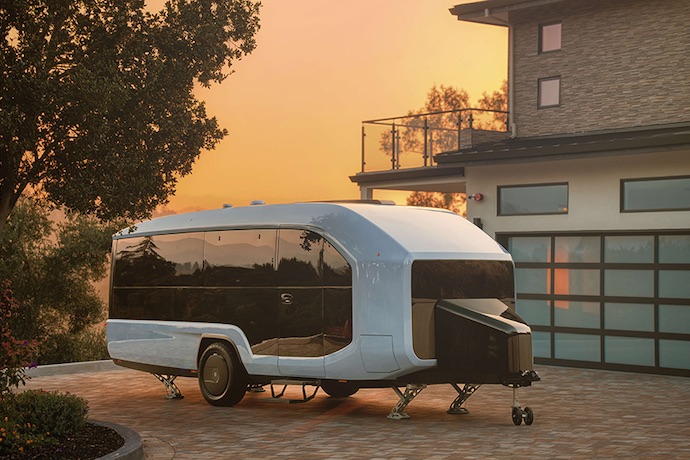 The Flow is available as a regular trailer that you pull with your car. But you're going to want the dual-motor propulsion option because it comes with a lot more features. For starters, there's power at each wheel to alleviate the strain on your vehicle during towing. But more importantly, you can literally park this thing with a remote control. Stand outside the trailer, and use the remote to reverse, maneuver into a parking space or otherwise position the Flow where you want it.
There's also the Magic Hitch feature. Just press a button, and the camper will sight your hitch, align itself, and then move to the exact spot and attach itself while you finish loading the car.
And then there's InstaCamp, wherein the Flow will deploy camp by auto-leveling, unfolding the stairs, turning on the lights, setting the temperature, unlocking the door, and pitching the awning. When you're ready to head home, it will break camp just as easily.
We're starting to feel a bit unnecessary in this whole scenario.