As the MLB season moves toward the playoffs, minor league baseball is winding down.
Which means now is the perfect time to rent an entire baseball stadium for you and nine friends.
And you can do that because the Pensacola Blue Wahoos, a double-A affiliate of the Miami Marlins, is renting out their ballpark on Airbnb. So you can take batting practice under the lights, hang in the clubhouse and otherwise live out your baseball fantasies.
The Blue Wahoos first listed the Pensacola Bay-adjacent stadium during the early stages of the pandemic, when baseball was canceled. Now, the three-time recipient of the Southern League Ballpark of the Year award is back on Airbnb and ready to host you.
This behind-the-scenes ballpark experience would make a pretty unique birthday party, bachelor party or a corporate retreat. It could also be a very strange date.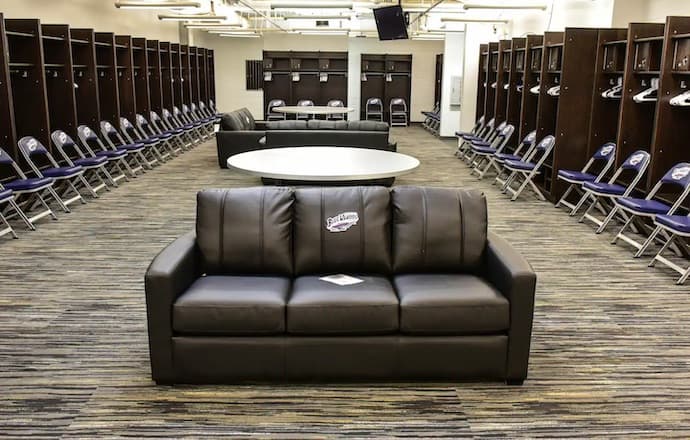 Per the listing:
Guests staying at the ballpark will have full access to the newly-renovated and fully-furnished clubhouse, a large bedroom with 10 beds, the batting cage, and the field itself.

Want to hit with your friends in our batting cage? Be our guest! Want to play catch on the field at 11:30 PM? Be our guest! Want to take batting practice while having a couple cold ones with the boys? Be our guest! Want to take down your siblings in ping pong and video games in the clubhouse? Be our guest! Want to enjoy breakfast at home plate? Be our guest!
So hospitable.
When you arrive, a Blue Wahoos representative will provide a tour of the stadium, and a staff member will be on call in case you need anything during your stay. Otherwise, you're free to explore and enjoy yourself.
The bedroom is connected directly to the clubhouse and has four bunk beds and two queen-sized beds, so there's room for everyone. It also includes a couple TVs and a kitchenette with a fridge, freezer, coffee-maker and microwave. But unless you plan on microwaving frozen pizza, you can add onto the experience with food and beverage packages from the catering menu.
The clubhouse has lots of seating areas, more TVs and a ping pong table, plus bathrooms and showers. You'll definitely want to take batting practice in the tunnel, then go out onto the field for a little home run derby, or to run the bases and shag fly balls (or have a picnic) in the outfield
Put on a good show, and this could be your chance. You never know when a scout may be watching.