If there's one thing we know about coolers, it's that they require ice to operate at peak efficiency.
But here's a cooler that doesn't require any ice at all.
So, it turns out we don't know one thing about coolers.
The Oyster Tempo is billed as the "world's first performance cooler." It gets colder and stays colder than other premium options, which means you can hit the beach, campsite, tailgate or anywhere else that drinks are mandatory but refrigerators are scarce, and sip on frosty beverages for literal days.
The first think you'll notice about the Oyster Tempo: It's aluminum, not the hard rotomolded plastic you find with other top brands like Yeti and RTIC. So it's lightweight—just 12 pounds—and it stays colder than traditional options. That's because aluminum conducts thermal energy much faster than plastic, distributing cold temps quickly and efficiently. And it's vacuum-insulated, similar to high-end water bottles and growlers.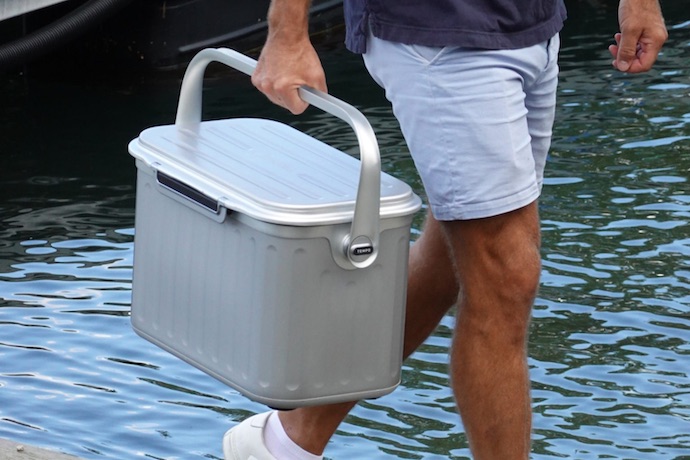 For decades, vacuum insulation was limited to cylindrical shapes, but Norway-based Oyster figured out how to make the tech work in a rectangular vessel, creating the vacuum pressure without the shape collapsing in on itself.
You should stock the cooler with cold drinks pulled straight from the fridge. Via energy transfer, the cans' temperature will permeate throughout the space, keeping the contents cold. In practical terms, the cooler stays so cold that it doesn't need ice. And that gives it about three times more capacity than traditional coolers of a similar size.
You can also throw in a Tempo ice pack to keep things extra chilly—it's slim and fits snugly onto the bottom of the cooler, leaving plenty of room for 36 cans of beer, which should get you through a weekend trip.
Maybe best of all, you won't have to reach into a freezing ice bath to fish out a beer every time you need a refill. And then do the customary dance of shaking your hand frenetically, wiping it on your pants and sitting on it until you regain feeling in your extremities.