Since it's relatively new, the world (of which you are an integral part, no doubt) is still learning how to harness the power of artificial intelligence.
For now, people are using tools like ChatGPT to write papers, solve problems, give relationship advice and perform other tasks that you don't want to do yourself.
We've barely scratched the surface of its utility. But while we wait for something truly groundbreaking, here's Forgemytrip, a new AI-powered service that's using ChatGPT to plan trips all over the world. It's in beta now, so you can poke around and see it in action.
Travel planning is a tedious albeit necessary step when booking a vacation. Between destinations, hotels, flights, tours, restaurants and every other checklist item, it's enough to make your head spin. So, it seems reasonable to offload the heavy lifting to a tool with no head.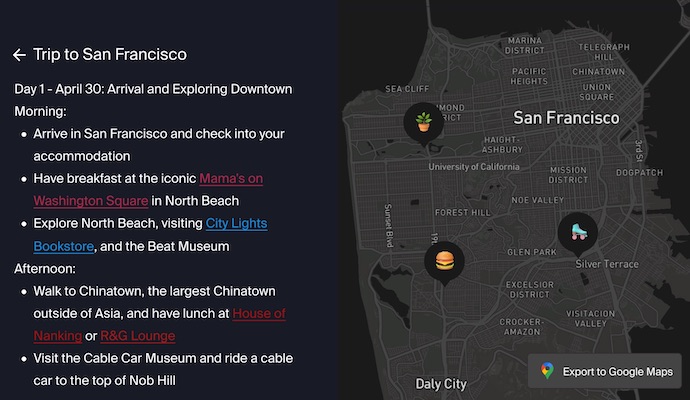 Once on the website, you're confronted with two fields: where and when. Type in where you want to go and when you want to go there, then click "generate." That will cue a box that lets you input additional information, so don't be shy. Tell it a few things to help tailor the trip to your preferences. For example, you could say that you want to try Michelin-starred restaurants or see a couple theater productions or rent a moped. The more parameters you include, the better it will do.
Once you submit your query, Forgemytrip will cull through options from the great beyond—or wherever they keep the internet—and spit out an itinerary. Itineraries are broken down by day, and they include options for morning, afternoon and evening. Depending on your input, it might give you a walking tour in the morning, suggest a museum in the afternoon, and then recommend a restaurant and cocktail bar for your evening activities.
The tool's not perfect, and it might suggest something that's closed or that doesn't exactly adhere to what you like. But it's a damn good start for travel planning.
Plus, unlike dealing with a travel agent, it's quick, it's (currently) free, and it's not biased toward senior citizens and bus tours.