Trained sommeliers can be valuable assets to restaurants and diners.
But the term lost some luster once it was applied non-wine professions, like water, hot sauce and olive oil.
That's not where things stopped, however. Because now there's an honest-to-goodness mountain air sommelier operating in Switzerland.
And even if you think what he's peddling is nonsense, we can all use a relaxing trip through the Swiss mountains.
Patrick Stebler is—this is not hard to believe—the world's first mountain air sommelier. He's teamed up with Graubünden, the Swiss Alpine region famous for its winter sports, charming towns and majestic views, to host tours that take visitors through some of the area's most fragrant destinations.
According to his bio, Stebler is a perfumer, pharmacist and gourmet. "Patrick Stebler has been exploring the Grisons mountains with his fine nose since he was a child. He knows better than anyone else which canyon smells like a summer morning and which forest with resinous notes has a calming effect."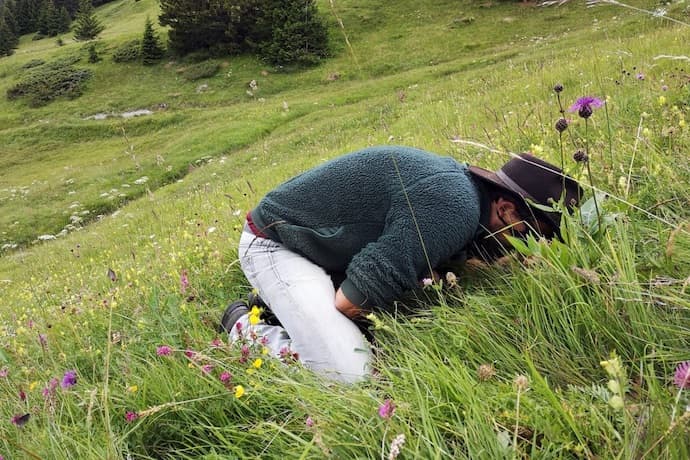 So, if ever you were going to follow someone into a valley for whiffs of chestnuts, blueberries and wood, this is the guy.
The tours run throughout the summer and into the early fall. Examples include a hike in Vals to look for cloves, and a jaunt in Surselva to liaise with local honey bees. Stroll through Viamala on the hunt for blueberry bushes and pine trees, sniff your way through a high moor, or bend low among flowers and herbs in Soglio. Along the way, you'll eat, drink and otherwise experience the local bounty via picnics, lunches and visits to local artisans.
Sure it's a bit unusual, but there are tours for everything, so why not mountain air? At the end of the day, you might develop a greater appreciation for nature and the world around you. Or realize that you're wildly allergic to Swiss grasses.
Either way it's a learning experience.