The proliferation of meal kit services means that you can skip buying groceries. But you still have to do the work of prepping and cooking your food.
Which, on a busy day, still isn't ideal. But we have a solution: live-in chef.
If that's not in the cards, we have another option: live-in robot chef.
Suvie Kitchen Robot is a smart appliance that's part refrigerator and part oven, so it can store and cook your food to exacting specifications. Now you'll spend more time doing whatever else you want to be doing, and less time making dinner.
The appliance measures just 14 inches wide and 13 inches high, so it fits snugly on your kitchen counter. And it works with a chef-designed menu, so meals are delivered right to your home. Options include prime rib with potato au gratin and green beans, sous-vide steak with lemon herb penne and peas, a pesto salmon bowl, and lots more.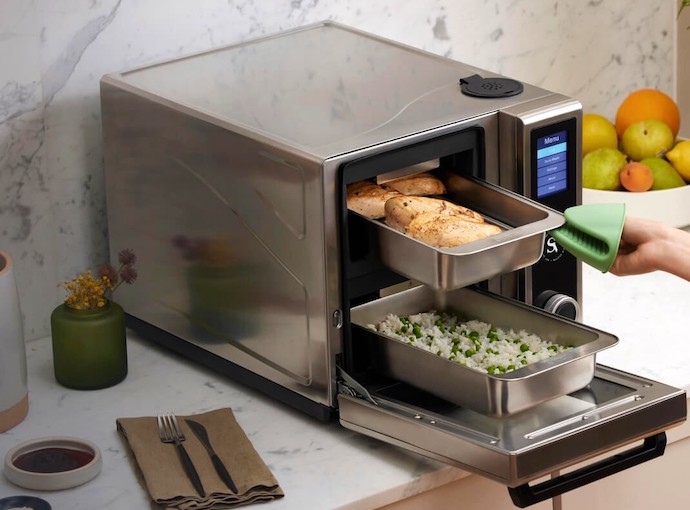 Suvie meals come in special packaging that tells the appliance exactly how to cool and then cook each ingredient. All you have to do is scan the barcode, and it will do the rest. It will even do it on your schedule.
Load your meal into Suvie and tell it when you want dinner ready. It will automatically refrigerate your food until it's go time, at which point it will use precise temperature controls to simultaneously roast proteins and steam vegetables via its dual cooking zones. If you're not quite ready to eat, it will hold steady until you are. Then before you dive in, it will quickly broil the meal to heat it all up and add a final sear.
Download the corresponding app, and you can order meals, schedule cook times and check on dinner from your office or the couch. The interior pans are dishwasher safe, so you can avoid lengthy clean up. And because this thing's a robot and not a real chef, it won't judge your eating habits.