If you want to visit Alaska but are worried about enduring the same unfortunate fate as Alexander Supertramp in Into the Wild, well, that's probably enough to make you book a cruise.
But while cruise travel can be a fun way to get around, it only shows you the edges of Alaska's mostly-still-untouched wilderness.
Train travel, on the other hand, takes you right through the middle of it. And after a two-year pandemic-induced hiatus and limited schedules, Alaska Railroad is back in action. Hop aboard one of the luxe glass-ceiling trains for the best way to see America's largest state.
The trains roll through national parks, connect coastal towns and visit glaciers, so you've got several routes and trains to choose from. Book a multi-day package, or just use the lines to get from one place to another.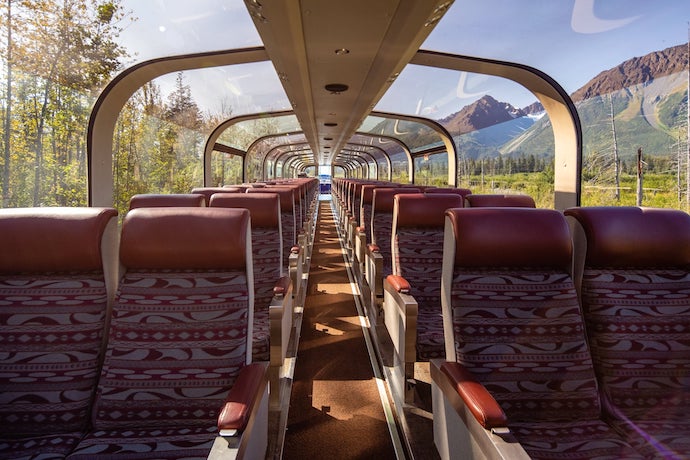 The Coastal Classic train runs from Anchorage to Seward, taking you along the picturesque Turnagain Arm, with views of the water and the mountains. The Denali Star train goes from Anchorage to Fairbanks, stopping in Denali National Park, where you might spot some grizzly bears and moose. And the Hurricane Turn train takes you deep into the wilds of the Indian River Valley—make it a day-trip, or hop off for access to remote hunting and fishing spots.
Wherever you go, the best experience is booking the Goldstar Service, a passenger class that features glass-dome ceilings and an outdoor, upper-level viewing platform. Get some fresh air and take in the sights as you move through Alaska. You can also eat in the full-service dining room and sip cocktails at the private bar.
Not all Alaska vacations involve roughing it.