Traveling to Macchu Picchu isn't easy.
First, you have to get there—it's a three and a half hour train ride from Cusco.
Then, you have to acclimate to the altitude, assuming you're coming from a place that's much lower than Macchu Picchu's 8,000 feet.
Our suggestion: Take things slow. Stop along the way. Especially now that you can take respite inside a glass dome that's on the route there.
StarDome Peru is a new boutique resort outside Macchu Picchu that's located within a geodesic dome, giving you unfettered access to the natural wonders outside those glass walls. Reservations go live on February 1, so get your clicking finger ready.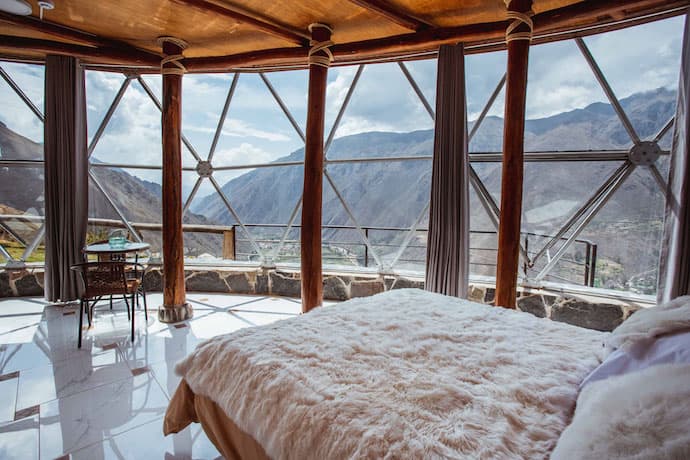 The bottom floor of the property is composed of five suites. They all feature floor-to-ceiling windows, comfortable beds, hot showers and heated marble floors. Upstairs is the aptly named StarDeck, with a panoramic glass ceiling perfect for stargazing and generally appreciating your surroundings. Sip a drink and take a turn at the telescope while murmuring things like "wow."
There's also the standalone Royal Apu Suite located above the dome, which offers more privacy and the best views. And when it's time to eat, the onsite restaurant serves fresh breakfasts and lunches featuring local cuisine, while dinners involve a four-course tasting menu with wine pairings.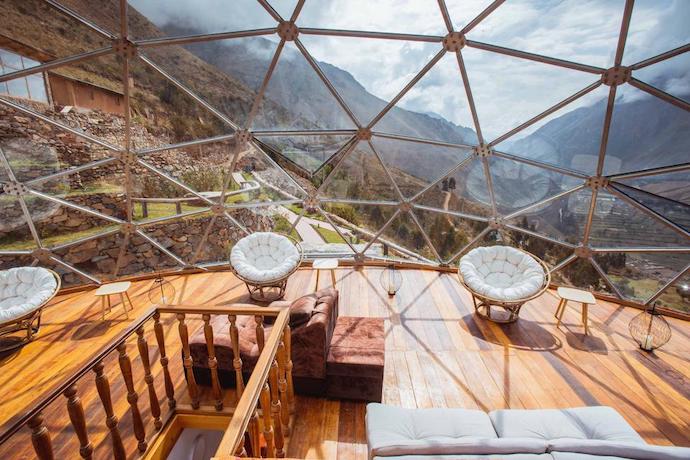 You can book nightly stays or all-inclusive multi-day packages that include transportation and excursions, where you can interact with members of the local Quechuan community. For instance, you can take a sojourn to Agua Calientes—the gateway town to Macchu Picchu—and then take a guided tour of the famed 15th century citadel. You can also take day trips to temples and ruins, and partake in a mystical San Pedro ceremony. The latter involves a shaman and a plant-based hallucinogen derived from a local cactus that supposedly has healing powers and can help you reach a higher state of consciousness.
So, you don't want to miss that.