According to the Distilled Spirits Council of the United States, tequila and mezcal sales rose 17.4% last year, with mezcal alone growing at a 7% clip.
So, good work, your efforts are paying off.
Now, it's even easier to put some mezcal in your system because Elenita is making sparkling mezcal cocktails in a can. They're available now in liquor stores and online, which is great timing for Cinco de Mayo, but also for the 6th and 7th and every other day of the year.
The California-based company was founded by two friends—Mikel Noriega and Jordan Dil. Inspired by mezcal during their trips to Oaxaca and Mexico City, they did what anyone would do: They started a business that combined the increasingly popular spirit with the fast-growing category of ready-to-drink canned cocktails.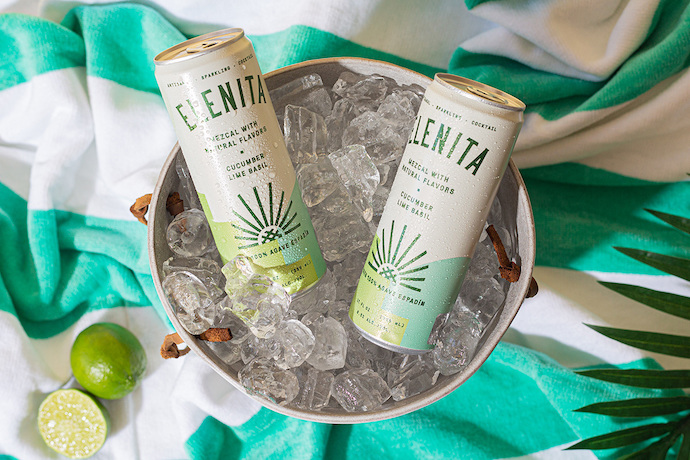 Each Elenita cocktail begins with mezcal from Oaxaca that is made from the Espadin agave plant, roasted underground for five days, naturally fermented and twice-distilled. The liquor is then combined with natural juices and sparkling water. You currently have four drinks to choose from, each packaged in a 12-ounce can and clocking in at 5% ABV.
Cucumber Lime Basil is cool, refreshing and citrusy. Pineapple Jalapeño is sweet and spicy. Strawberry Mule combines strawberry and ginger for a smoky, fruit-forward take on the classic Moscow Mule. And Passionfruit Paloma merges juicy passionfruit and grapefruit.
These canned cocktails reach their full potential when consumed around bodies of water and bonfires, in parks and alongside tacos. Pour them over ice or just chug straight from the chilled can.