Some people see a luxury catamaran and think, "Yep, that'll do."
Others see a luxury catamaran and think, "Sure, it's nice... but what if we added a mini submarine on the back?"
Those who operate in the latter camp are visionaries. Smart, gratuitous visionaries.
And it's because of them that we've got Aquanaut, a vessel that combines all the trappings of a yacht with the function of a catamaran, and then straps a submarine on the back for good measure. So, it checks a lot of boxes.
Aquanaut was designed by Officina Armare in collaboration with U-Boat Worx, and it's being built to order by Licia Yachts, a Turkish shipyard. The 60-foot boat features a spacious deck, a bar and two outdoor dining areas, plus a large jacuzzi. The four staterooms sleep eight people, and the vessel can accommodate up to 12 at a time, should you want to host a crowd.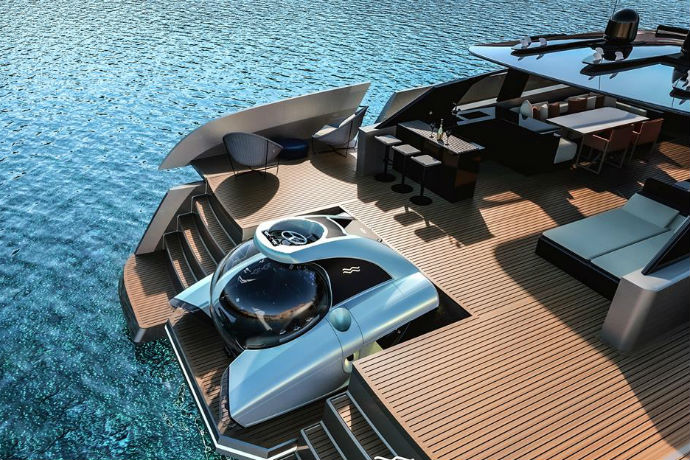 The twin engines can keep you moving along at a speedy clip of 40+ miles per hour. Combine that with the all-around comfort, and this thing's a great option for long-haul trips. Plus: submarine.
The mini submersible is fixed to the back of the catamaran with a hydraulic system that lowers it into the water. It can dive to a depth of 330 feet, move along at three knots under water, and operate for up to eight hours at a time. The sub is named "Nemo."
Just like Jules Verne's famed captain. Or Disney's little orange fish.
So you're in good company.