The ancient art of origami is a lesson in symmetry and patience.
It also results in some great looking paper swans.
Oh, those swans will float all right. But they're not well-equipped to transport you down a river.
For that, you've got the Oru Inlet Kayak, the latest innovation in folding kayak technology. After a successful Kickstarter last year, it's on the market and ready for the water.
This isn't Oru's first folding-kayak rodeo. But it is their lightest, least expensive and other-buzzwords-you-care-about version.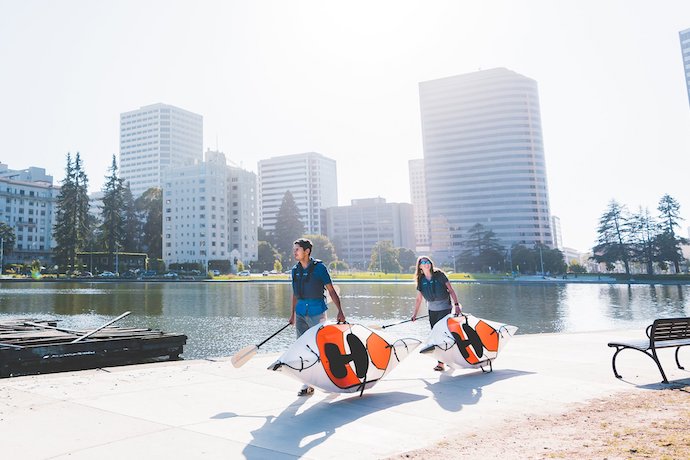 The Inlet is 10 feet long, weighs just 20 pounds and folds into a box that's roughly the size of a guitar case. Once out of the box, it can be assembled in about three minutes, or 100 times quicker than your average Ikea purchase.
So, while your friends struggle to release their heavy kayaks from roof racks and carry them to the water, you'll be sauntering by with this thing in one hand and a cooler in the other. Not to rub it in their faces, but just because you can. And by the time they arrive at the water's edge, you'll be all setup and ready to paddle.
Lest you worry, yes—this super light, folding kayak is plenty buoyant and rated to hold about 275 pounds. It's best on calm water, so you probably shouldn't take this to the Kayak Slalom at the Tokyo Olympics. But the flexible, strong material can withstand sliding over rocks and bumping into obstacles. It's made from a thicker, custom version of the plastic that postal service bins are made of. And those things are basically indestructible.
Hard to navigate down a river, though.