In Denmark, they believe in crazy things like mermaids.
And trolls.
And dashing explorers who sleep among the tree branches.
Blame the Løvtag Treetop Hotel for their bewilderment. It's essentially the best place to stay while poised above the forests of the Als Odde peninsula in Denmark.
To be more exact, it's a geometric cabin of wood and glass suspended more than 25 feet in the air with an actual living pine tree growing right through its center. So, the very definition of hygge.
It's got big windows to take in the beautiful forest and general peace and quiet that surrounds you, plus a kitchen for cooking fresh fish and a rooftop lounge for drinking whatever the hell one drinks in a Danish forest.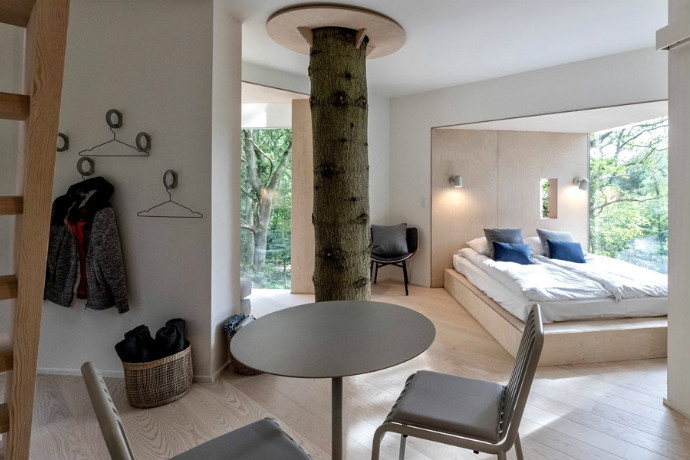 You'll come and go via a cool suspended wooden bridge. And somewhere around that in-room tree trunk, find your queen size bed and also a double sofa bed to house any friends you met in the forest. Plus... whoa, look, a deer! (Probably.)
When you're not just kicking back and nature-watching from bed, you can pass the morning on Mariager Fjord while enjoying some renowned trout fishing, sailing or kayaking.
Then perhaps you can stroll through those pristine woodlands for dinner at the forest restaurant known as Hunter's House.
Which is presumably not vegan.