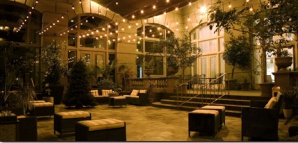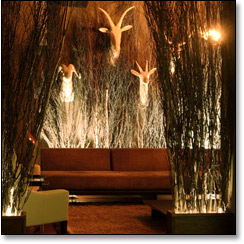 Driving in LA is a pain.
Driving to go out in LA is even worse. Driving to multiple nightspots is the pinnacle of automotive hell. So when we heard about a new joint that houses cool bars, lounges and a first class restaurant all under one roof, we were understandably pleased.  
That's what you will find at
Royale
, located in the historic Wilshire corridor. The vibe is '20s supper club without trying to hard too be '20s supper club (see: every other bar in LA since 1994) and there is room to roam. You'll find a pool table room, outdoor patio, 35-person circular booth and string lighting inspired by a vintage photograph. Not to mention the stunning 10,000-square-foot restaurant with 25-foot ceilings and only 75 seats. (Elbowroom, anyone?)
Chef Eric Ernest (Boa) kept the Cal/French menu descriptions mercifully simple. Even though the beef is Niman Ranch and the salmon Copper River, the menu doesn't say so (after all, when your game is tight, there's no need to brag).
Don't miss the VIP lounge that somehow successfully blends an African safari with a backwoods hunting lodge. You could drive all night and not find that.