A definitive good news-bad news situation has already reared its enormous head at this weekend's U.S. Open at Shinnecock Hills, so per usual, let's jump right on into the bad news:
Tiger Woods says traffic is so bad throughout Long Island that players might miss their tee times!
That means a lot of angry rich men walking around in khakis, which, yikes, don't love the sound of that.
The good news, however, is that this exhausting conundrum has driven resale tickets down to nearly face value, with a limited number still being sold on site. You can even beat traffic to Southampton by taking the LIRR directly to a temporary platform at the main entrance of Shinnecock. So if you'd like to catch one of golf's four majors at one of the oldest, most prestigious courses in America, this is probably as good a chance as any.
And oh, the food and drink that awaits you upon arrival. You'll be faced with tempting options, requiring your most deft decision making (and without the help of a perspicacious caddy). Hence, this brief field guide, overviewing the best places to dine—both on and off the course.
Around the Course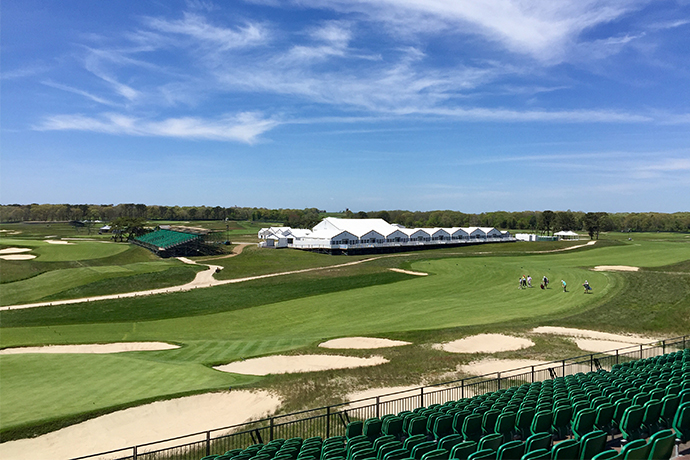 Top of the Hill
Shinnecock's go-to beer bust sits atop the twelfth hole pouring endless amounts of Hills Pils—a crisp summer pilsner brewed especially for the U.S. Open by Blue Point Brewery. The one-of-a-kind beer garden offers up food, shade and panoramic views to all those willing to splurge on entry. Considering the severe lack of trees on this course, it's probably worth the damage.
Trophy Club
Located in close proximity to holes four and six, the Trophy Club offers cold AC, open seating and a slew of food and drink to keep you rolling throughout the day—again, only if you're willing to up the ante.
The U.S. Open Shop
Ok, maybe not the most ideal spot to plop down with a beer and burger (though then again, it might be?), but should you be in the market for some sweet merch, consider this your personal dad hat heaven. After all, Shinnecock touts one of the Open's most iconic logos, next to Pebble Beach and Winged Foot. Simply look to the skies upon arrival and allow legendary photos of past Open champions guide you to sartorial greatness.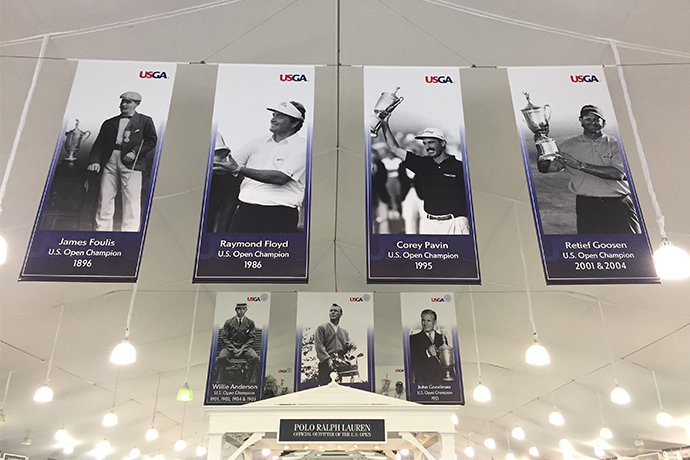 Take notes from 1896 U.S. Open and Bowtie Champion James Foulis. Or Willie Anderson in the back left, who apparently won four fucking Opens in a double-breasted suit and Panama hat. Those were the days.
Nearby Venues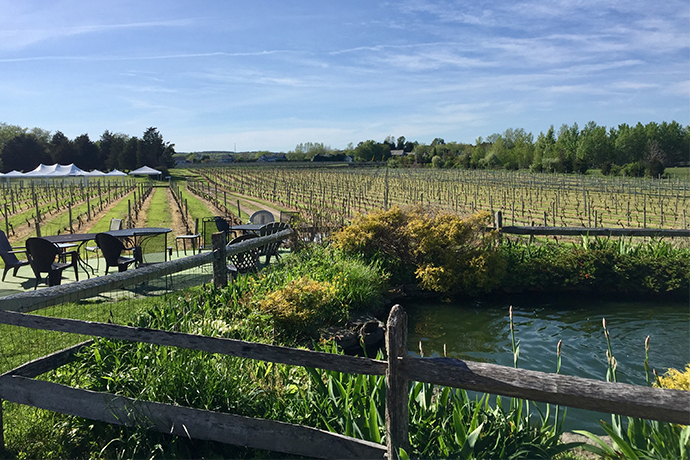 Duck Walk Vineyard
If enjoying a bevy of fine local wine over impeccable vineyard views is more your speed, take a break from the chaos and reserve a tasting over at Duck Walk. Admittedly, it's a longer-than-usual 19th hole.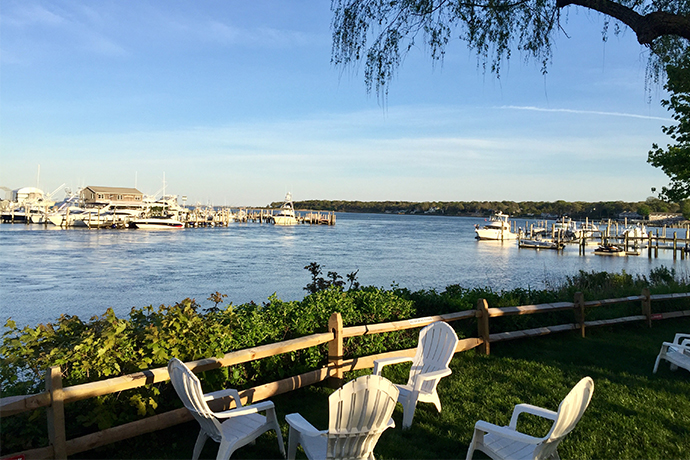 Cowfish Hampton Bays
The quintessential bayside hang to wind down after a long day in the sun. You will sit, you will soak in a glorious sunset, you will put so many lobster-stuffed mushrooms in your mouth. You will only look up to have a gentle server offer you a glass of chardonnay. You will kindly accept.
Southhold Bay Oysters
If you happen to be nesting within the area, Southhold Bay will set you up with a bona fide pop-up raw bar, wherein two handsome men in button-ups will shuck you fresh, locally-farmed oysters alongside splendid accoutrements. You can eat the oysters, fawn over them, worship them as Gods—they don't care. They're your oysters.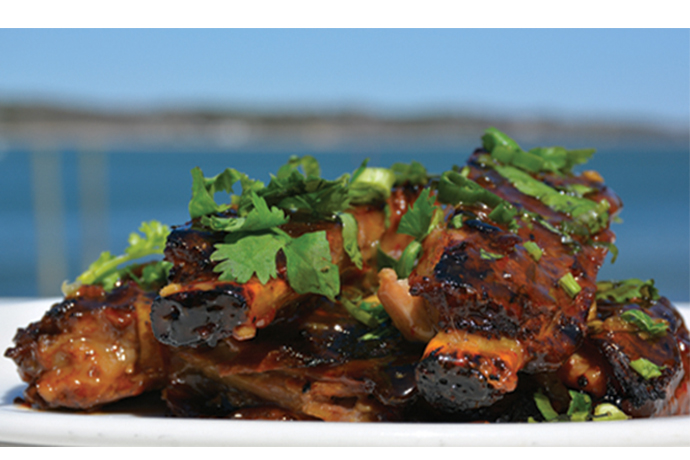 Rumba
There you are, sitting at an island rum bar, eyes transfixed upon gorgeous Shinnecock Bay as the sun glistens off the Dominican pork rib sauce smothered about your face and lips...
Wait, you're not there? What the hell? Get to Rumba right this instant.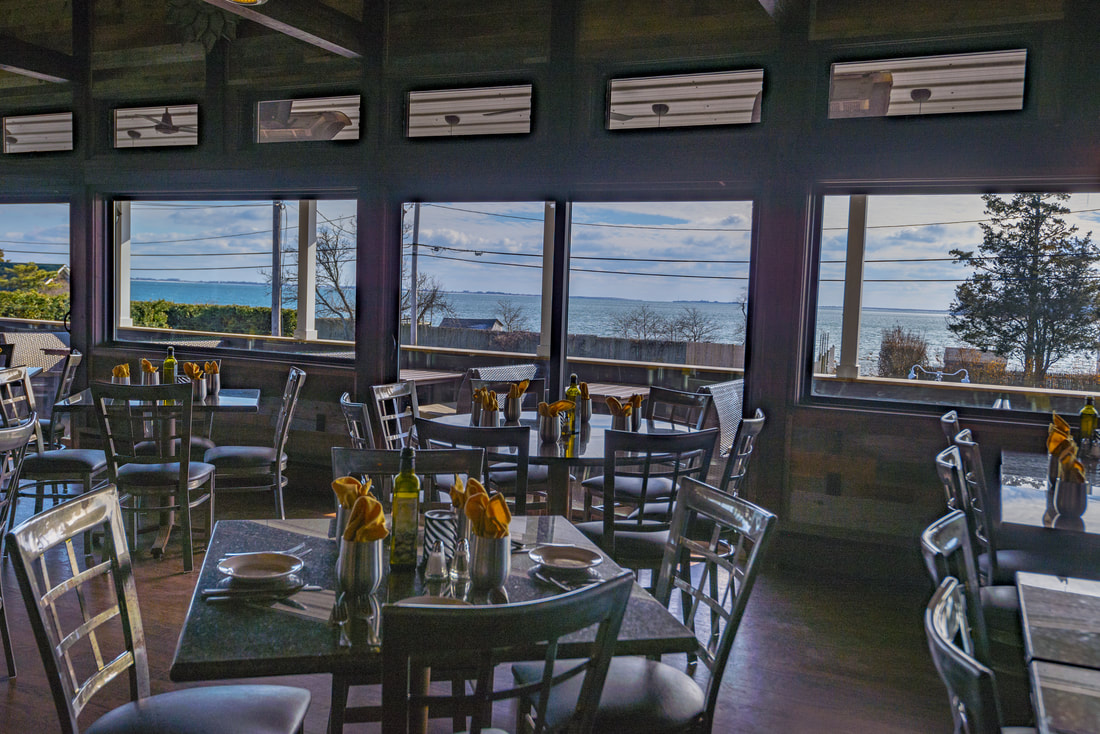 Edgewater
The best waterside Italian in Shinnecock, where simply deciding upon an appetizer is a back-breaking exercise in critical thinking. Some good news: the payoff is glorious.
The Plaza Cafe
I highly doubt they'll let you take a bath in the Watermelon-Tomato Gazpacho—it's already full of gulf shrimp—but it's worth an ask.