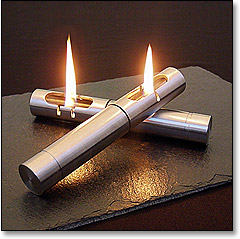 Since caveman days, we've been looking for a good fire to stare at.

Well, the fire just got a little closer, and just in time for the plummeting temperatures (brace yourself for the end of next week). German designer Carl Mertens has brought the fireplace out of the wall and onto your desk. We call it "pyro-chic." Just keep it away from your laptop.

A polished slate base protects your desk, and the fire itself comes out of two stainless steel logs. It lights up just like an oil lamp, so you'll be able to get rid of that spindly desk lamp. And when your boss decides to keep the thermostat at 58 degrees, you'll have something to warm your hands over.

The whole thing is about the size of your colleague's mini sand garden. But you can't set things on fire with a sand garden, and nothing says "this is what I think of your interoffice memo" quite like an open flame.

By the end of the week, you'll be using it to roast a boar.