We're not the types to just sit around telling you where to drink, dance and generally enjoy life.
We really prefer to lead by example.
And so it was that UrbanDaddy embarked on a tour with INFINITI and chef Roblé Ali on a rollicking three-city circuit that found guests indulging in flaming bourbon donuts, paintings made from food and performers with small fires on their shoes.
And since you probably weren't able to make it to all three cities, we're taking a look back now at all the good-natured debauchery in a quick recap below to let you know what you may have missed.
Let the good times roll...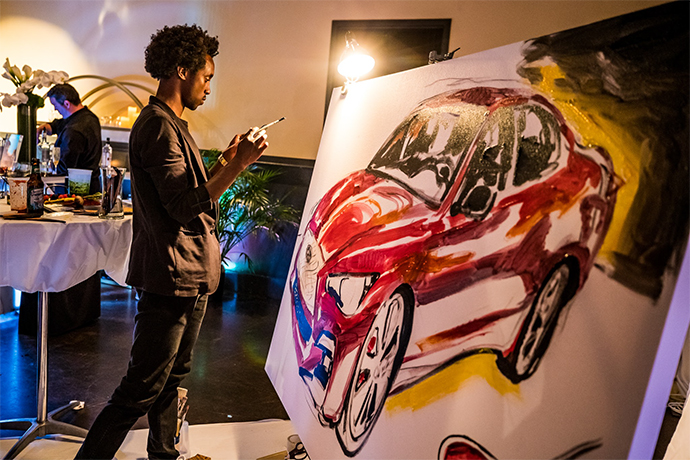 Atlanta
Our first party kicked off in a big, brick-lined building in Atlanta. They're a good-looking bunch down there. Between the handsome crowd and the Champagne bar, it was almost hard to focus on the Q50 and Q60 INFINITI vehicles that were parked indoors. Particularly once artist Abdi Farah started immortalizing that Q50 on canvas using paint made from food products. But again, almost.
A more practical use of cuisine was found in Chef Roblé's hands, which included skewered BBQ turkey and Ethiopian doro wat deviled eggs. Cocktails in hand, guests were eventually lead by a brass band into the dessert room to meet some hip-hop ballet dancers, boozy slushies and flambéed Makers Mark donuts lying in wait. Things continued to happen after that. More good things, of course.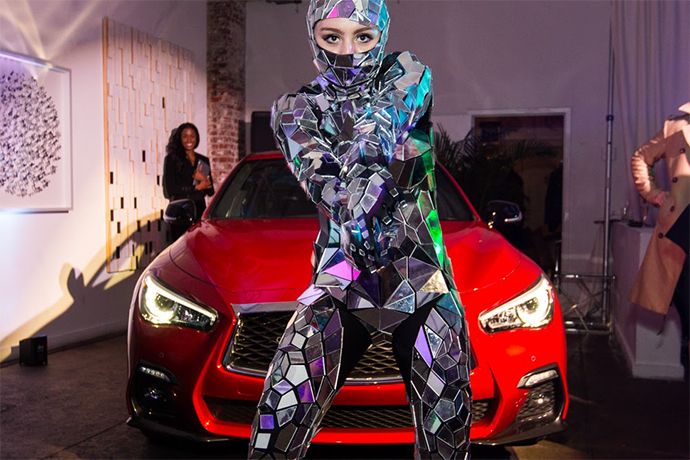 D.C.
We took a look at the current state of Washington and decided to back a party. Not the political kind, but one involving DJ RI5E and Christylez, who took the time to master the beatbox, guitar, spoons and drums for everyone's enjoyment. Needless to say, it was something else, held amidst an art-strewn space glowing in soft pink.
Chef Roblé did his best to pull a whole lot of well-dressed people out of the INFINITI vehicles, using such traditional standbys as fettuccine with goat Bolognese, Thai tacos served inside of limes and black fried calamari to transition cocktail hour into the beautiful dining room.
Hard to top tacos in limes. But alas, there was an entire wall with donuts hanging on it in there, and so it went that the crowd followed our brass band into the dessert room for more hip-hop ballet. And to dance with a human disco ball, who surely deserves to be our next president.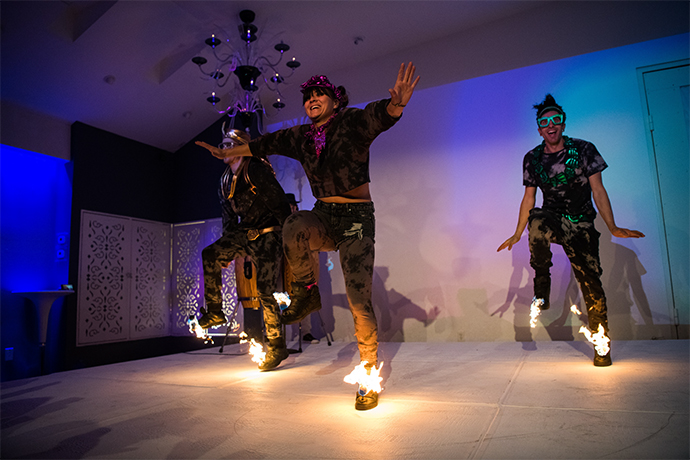 L.A.
The party raged on until we suddenly found ourselves in December. Instead of throwing our final fete in say, Boise, we opted for LA, which is rumored to feel like summer all year. We were not disappointed with the weather, or the eye-catching crowd, which mingled below pink chandeliers in a roomy modern space in Culver City.
Was there live art involving food paint and an eclectic DJ? Aye. Did Chef Roblé blow minds with French onion soup grilled cheeses and deviled duck eggs? Now that you mention it, he did.
But knowing that this was LA, we had to step it up a bit to pull these car-addicts' attention away from INFINITI's fine motor vehicles. Which is why we unleashed liquid nitrogen ice cream and set a baked Alaska on fire. And why we decided to line the dessert room with fire breathers, break-dancers and introduce everybody to Flamboozlers, which are just dancers with their shoes lit on fire.
And you know what? It worked.