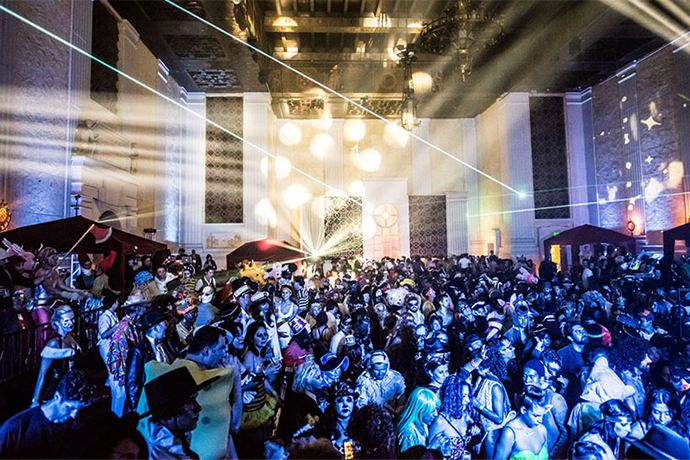 You thought Halloween was finished last year.
You were pretty positive you left it behind in a haze of frenzied dancing, mezcal and a costume that got simply too hot to keep on.
But clawing through the peace of this otherwise ordinary Monday afternoon, we're here to inform you: it's back.
We only hope you're ready for all the peanut butter cup bourbon and Mexican wrestling your week is about to entail.
And with that, here's your plan for doing it right, no matter what you might be into...
The Downtown Party
You Require: Whimsy. With a little bit of a dark edge. And a rib-roast would be nice.
You'll Receive: The Neverlands, a haunted forest-themed bash taking over all four floors, multiple rooms and the giant tree at 82-year-old marvel Clifton's this Saturday. And about that roast, it's one of the Misfits-themed menu items the chef will serve.
Oct 28, 8pm-3am, $40-$60, Neverlands at Clifton's Republic, 648 S Broadway, Downtown, 213-627-1673, tickets here
The Westside Rooftop Party
You Require: The eternal human conflict between good and evil, embodied in a DJ-centric dance party.
You'll Receive: E.P. is Hell and L.P. Rooftop will play Heaven in a costume party with an open bar and passed apps that will stretch throughout the elaborately redecorated venue. Heaven already sounds less hot.
Oct 28, 8pm-2am, $75, Monsters Ball at EP/LP, 603 La Cienega Blvd, 310-855-9955, West Hollywood, tickets here
The Cemetery Party
You Require: Art. Culture. Tequila.
You'll Receive: An afternoon in Hollywood Forever cemetery packed with Dia de los Muertos altars, Aztec dancing, traditional processions and live bands and DJs. Oh, and a lot of dead people, both real and of the alive-and-drinking sort.
Oct 28, noon-midnight, $20-$120, Hollywood Forever presents Dia de los Muertos, 6000 Santa Monica Blvd, Hollywood, 323-469-1181, tickets here
The Wine Party
You Require: A date-appropriate way to spend Halloween.
You'll Receive: A pairing of four classic candies to four different wines at Hollywood's Vintage Enoteca, like Starburst with a Washington Riesling. It was a good year for Starburst.
Oct 31, 5pm-onwards, $30, Vintage Enoteca, 7554 Sunset Blvd, Hollywood, reservations at 323-512-5278
The Cocktail Party
You Require: Something like that wine thing we were just talking about. But with booze. And different.
You'll Receive: Peanut butter cup-and-bourbon cocktails and carbonated cranberry sauce–inspired drinks on the Halloween-themed menu that Walker Inn is serving for a just a few more nights.
Nightly through Oct 31, 6pm-2am, no cover, Walker Inn, 3612 W 6th St, Koreatown, 213-263-2709
The Masquerade
You Require: Mexican wrestling, drinks, belly-dancing, Jason Bentley, irony and a whole lot of really good costumes. For a good cause.
You'll Receive: KCRW's Masquerade Ball at the MacArthur, where just about every single one of the station's DJs is due, along with wild performers like Lucha Va Voom and Lucent Dossier.
Oct 28, 9pm-2am, $125, KCRW Masquerade Ball at the MacArthur, 607 S Park View St, Downtown, 310-314-4635, tickets here
The Nostalgia Party
You Require: A classic Halloween. Just without all those children around.
You'll Receive: An adults-only Halloween at Westbound, where they'll show It's the Great Pumpkin Charlie Brown and Halloween while you play pumpkin bocce, bob for apples and drink pumpkin-ale-and-apple-whiskey boilermakers.
Oct 31, 5pm-2am, no cover, Westbound, 300 S Santa Fe Ave, Ste N, 213-262-9291