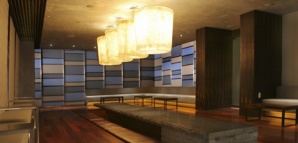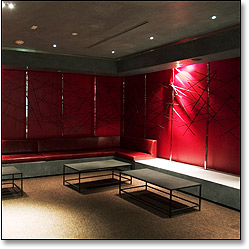 Let's face it—our attention span just keeps getting shorter.
Which is why we're rather enthused about
Blue Velvet
, a suitably arousing new restaurant and lounge in downtown LA where multiple settings and a mingle-friendly atmosphere all but guarantee things won't get dull too soon.
Situated within The Flat, a six-story residential development just west of the 110, and launched by a trio that includes "T" Elliott, erstwhile purveyor of the downtown Standard's rooftop lounge, Blue Velvet (which opens in full today) uses a color-coded motif to liven up its space.
The Brown Room seats up to 50 for modern American cuisine like roasted quail and a mean short rib dip. The Blue Lounge features a sunken 17-foot granite communal table designed to spark conversation among strangers (
"Try my smoked eel?"
). The White Room cradles the main bar, where you can ask for an off-the-menu
Black & Blue
(Blue Moon and Guinness) or one of the joint's tea-infused cocktails, just like Grandma used to make (try the Earl Grey and Maker's). Farther back, the scarlet-seated Red Lounge lodges its own bar and may be sealed off for ultra-privacy. (There's even a back-alley entrance to ditch your annoying paparazzi.)
But perhaps BV's best spot for forging good times—other than poolside—is within its spacious coed restroom. One never knows where a flirtatious chat outside the fully enclosed stalls may lead.
Just make sure you remember which room you started in.