There's nothing that checks the boxes for a night out like a restaurant that takes live music seriously. Or a music venue that takes dinner seriously. To help you in your quest for such a night, we've done this: the ten best food and music combos in the country, where consuming generous portions of delicious comestibles and jamming out go hand in hand.
Let's begin, shall we…
Rider (Brooklyn)
What you'll eat: Mushroom bolognese, a marrow bone French dip and other eclectic American bistro fare.
What you'll hear: It's in the same building as National Sawdust, a non-profit arts venue that incubates a whole host of talented up-and-coming musicians and artists. So we're not really sure. But whatever it is, it's bound to be interesting.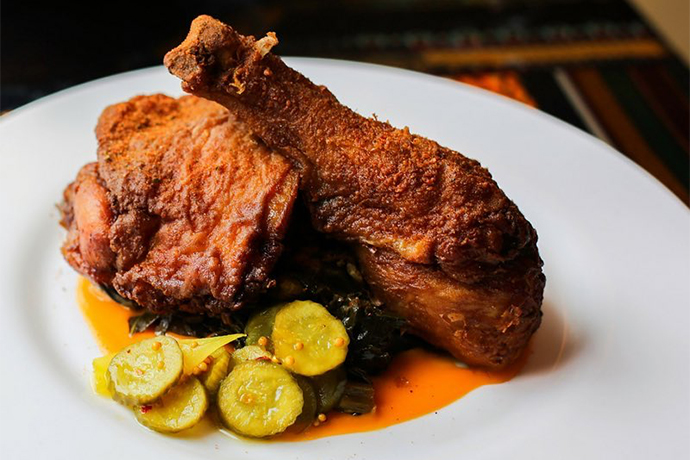 Ginny's Supper Club (Harlem)
What you'll eat: Chef Marcus Samuelsson's world famous soul food, which includes his delectable whole fried chicken.
What you'll hear: Smooth jazz and blues that harken back to Harlem's rich musical history.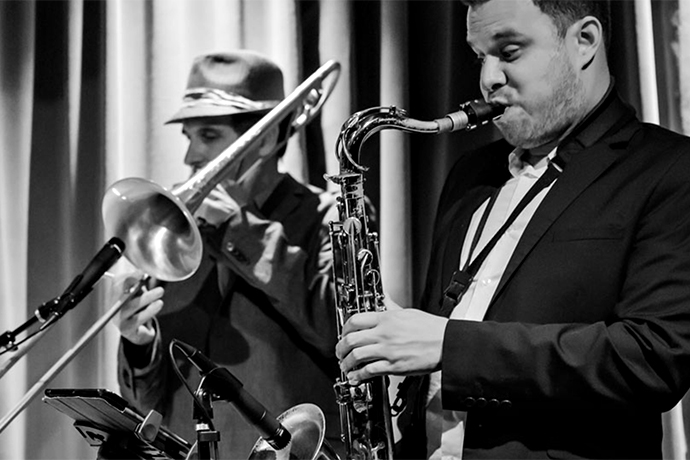 Black Cat (San Francisco)
What you'll eat: The swanky lounge offers an array of sophisticated small plates (ala the foie gras torchon) and snacks (ala the black truffle popcorn) in the city's historic arts and entertainment district.
What you'll hear: All jazz, all the time.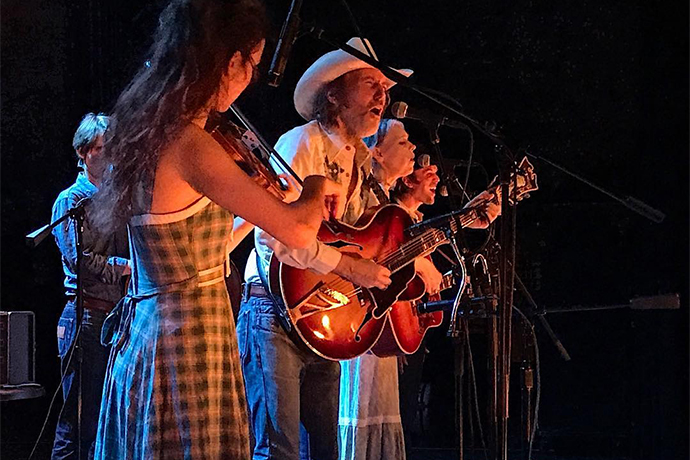 Thalia Hall (Chicago)
What you'll eat: Dusek's. It's the landmark venue's Michelin-starred restaurant, serving up garlic-stuffed chicken, beef-fat fries and decadent late-night sausage sandwiches.
What you'll hear: Whichever musician happens to be playing at Thalia Hall that night. Usually, it's someone of the indie/alternative rock-variety.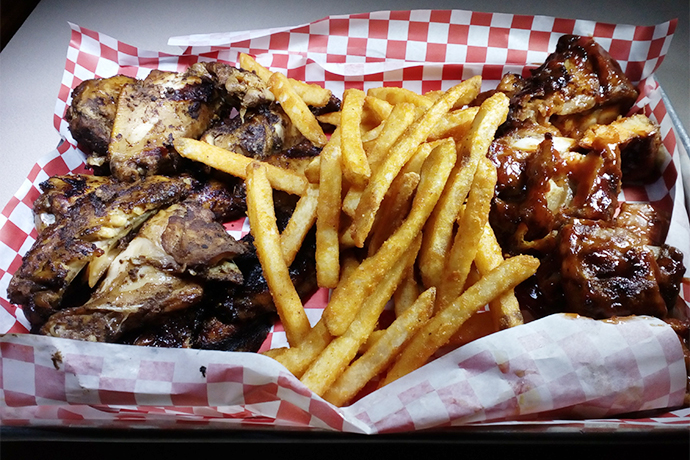 Kingston Mines (Chicago)
What you'll eat: No-frills southern BBQ (try the ribs).
What you'll hear: Classic blues every damn night, until late. This is a true Chicacgo institution.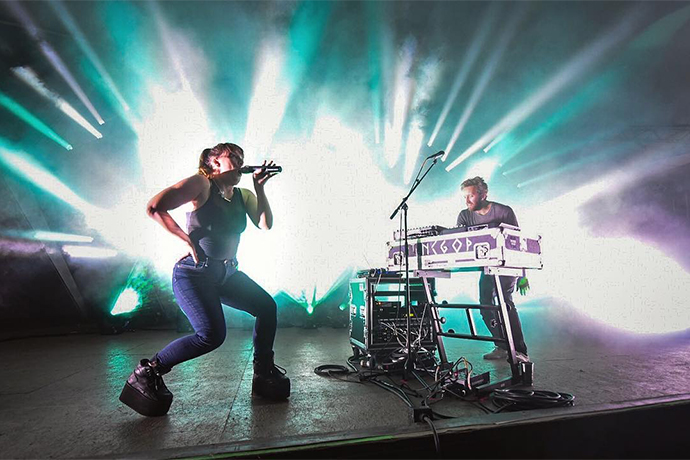 Stubb's Bar-B-Q (Austin)
What you'll eat: There's a platter of 14-hour smoked Texas brisket with your name on it.
What you'll hear: Mostly the stylings of touring rock musicians. But we say, go for the Sunday gospel brunch.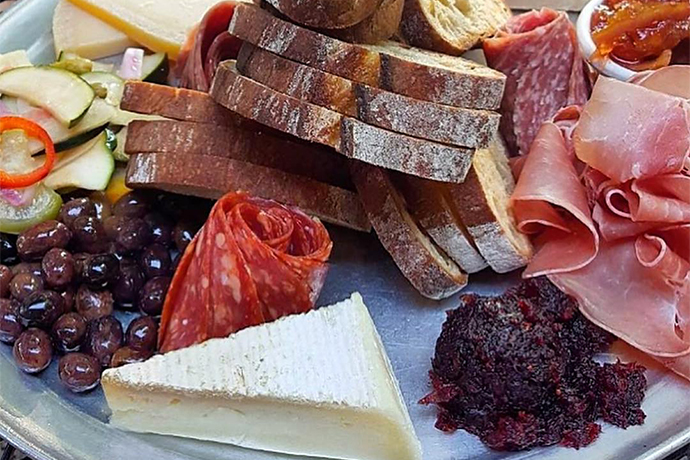 Bacchanal (New Orleans)
What you'll eat: Anything you can pair with their extensive collection of Old World-style wines. We hear the expertly curated cheese plate might do the trick.
What you'll hear: Local musicians doing their thing in this lively Ninth Ward courtyard, seven days a week.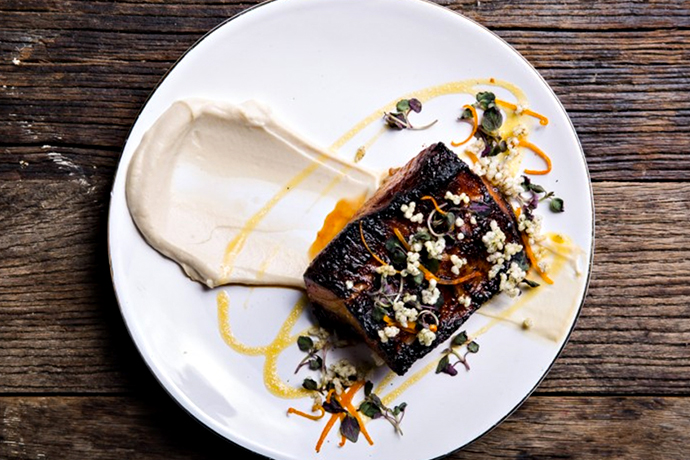 Hyde Sunset Kitchen + Cocktails (West Hollywood)
What you'll eat: Thai mussels and clams, seared red snapper or a 14oz ribeye. The choice is yours.
What you'll hear: Let's face it: you're here for the DJ-du-jour and typical West Hollywood decadence.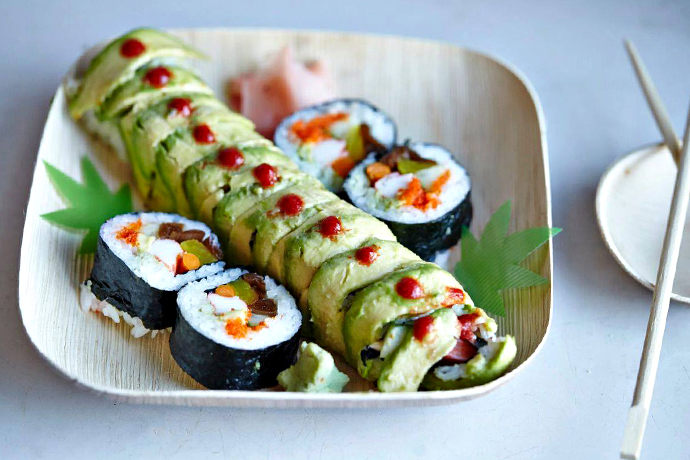 Acme Feed & Seed (Nashville)
What you'll eat: The hot chicken sandwich and beer-belly tacos on the first floor, sushi on the second. Strong combo.
What you'll hear: Depending on the night, Americana, country or bluegrass. Because, Nashville.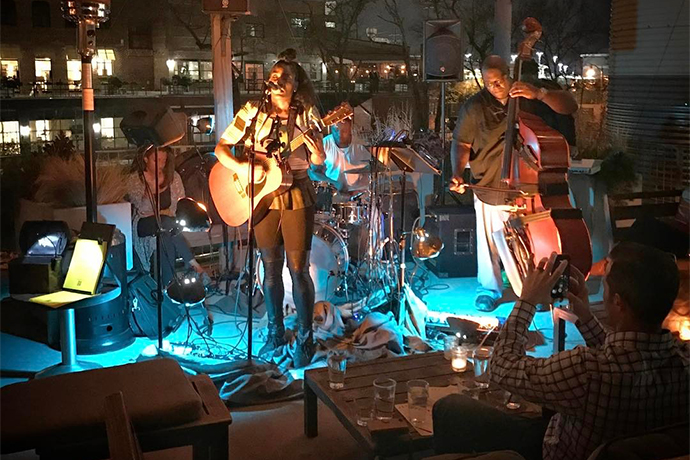 JCT. Kitchen & Bar (Atlanta)
What you'll eat: Their signature shrimp and grits or slow-cooked chicken and dumplings. Or any number of other really delicious things.
What you'll hear: Late-night jams on the rooftop.