"Stop playing with your food."
That's everyone's mother talking.
Thank God our most creative chefs refused to listen to their elders.
Because now they're responsible for the country's 10 Most Innovative Dishes, a selection of plates that have caught our attention, and everyone else's, around the U.S.
You'll see some pretty nuts stuff in here. From barbecue-stuffed pasta to an invisible serving of fish.
So maybe you won't see that one.
Guess you won't know until you get in here...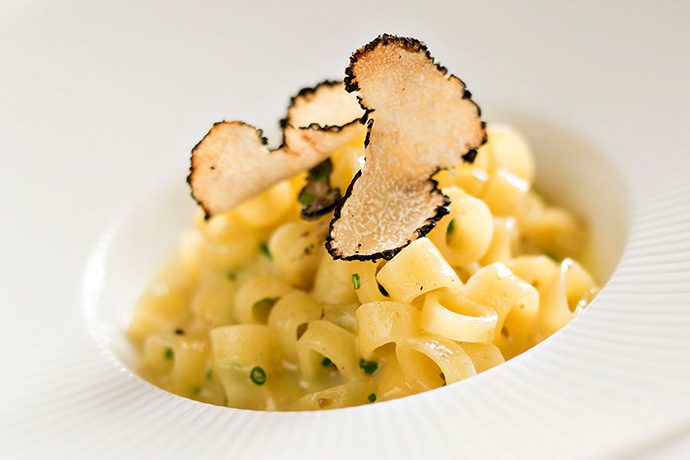 SpaghettiOs are the height of culinary greatness. It's true. As long as they're formed by hand with fresh truffle, Irish butter and parmesan, which they are at Greg Denton and Gabrielle Quiñónez Denton's Superbite in Portland. Never change, Portland. Never change. $7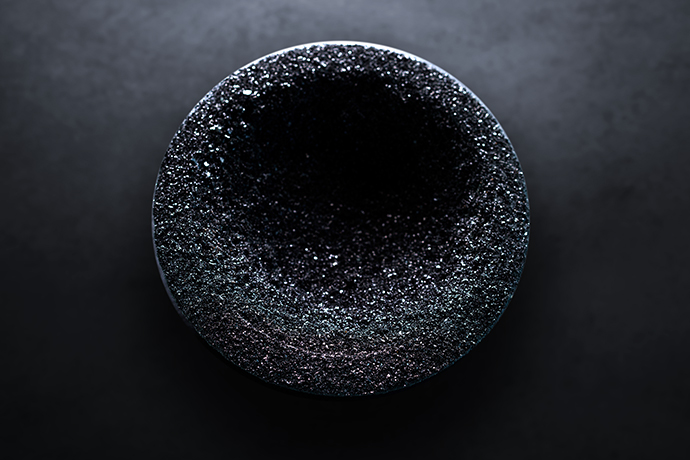 LA's Vespertine is one weird place. Take their halibut. It looks rather... not there. That's because chef Jordan Kahn pummels it to a near non-existence before encasing it in dark charred-onion powder and fitting it seamlessly into its extraterrestrial bowl. So we meant good weird. On $250+ tasting menu.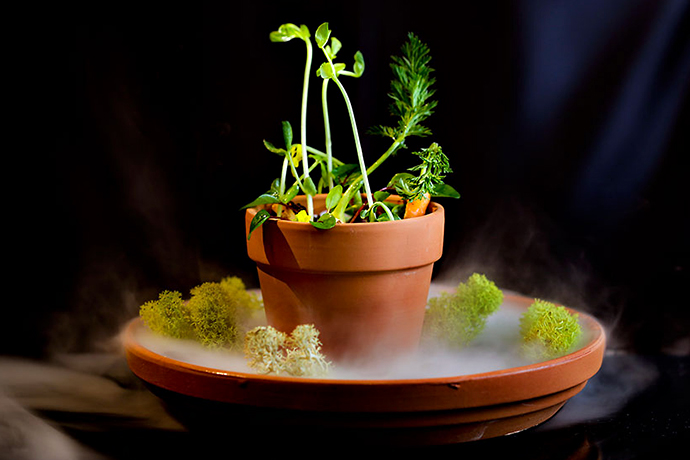 Chef Srijith Gopinathan's spice pot, a take on paan puri with mini root veggies at Taj Campton Place, isn't just a smoking garden vessel filled with wonderful Indian flavors. It's a Michelin-starred smoking garden vessel filled with wonderful Indian flavors. On $95-$140 tasting menu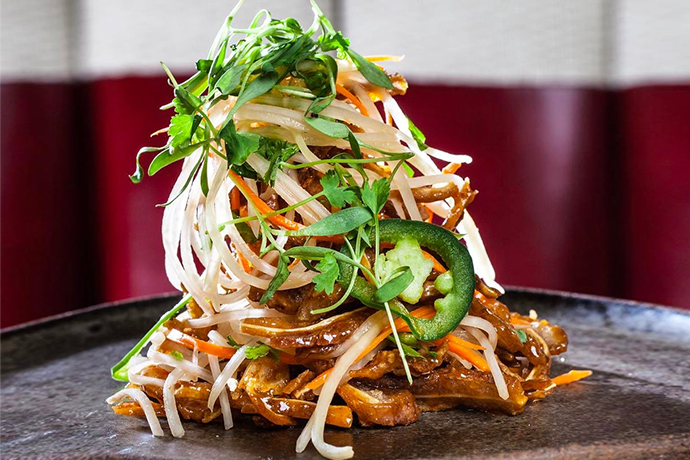 The odds are high that you've enjoyed pad thai before. But we're willing to bet you haven't enjoyed it with noodles made of crispy pig ears, like the one they serve on papaya salad at Sugarcane Raw Bar & Grill in Vegas. Always bet on pig ear. $11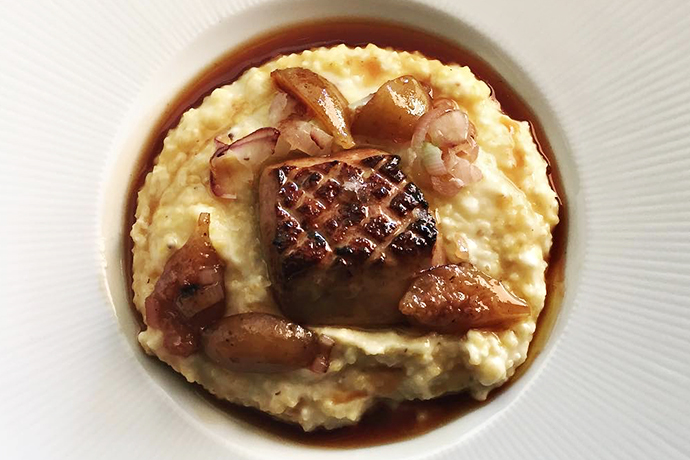 Fact: Grits are good. Correction: Grits are not good, they're great. The point of saying all this: Mashama Bailey prepares hand-milled grits with foie gras and red wine at Savannah's the Grey. Conclusion: Mmmm. $16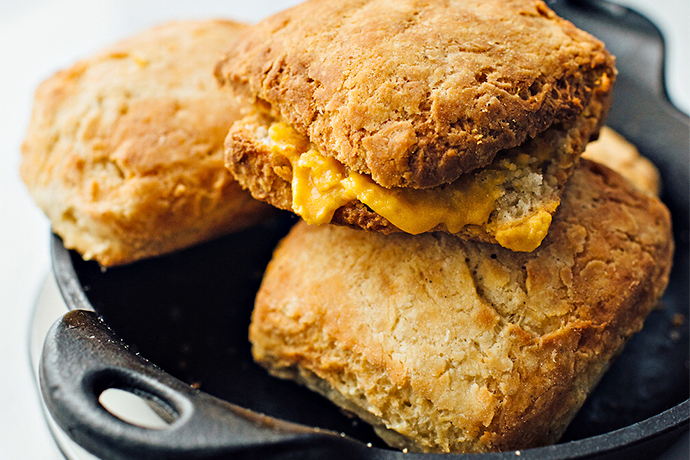 Do you know the definition of tragedy? It's that we're all sitting here talking about food instead of flying off to New Orleans together to eat the sourdough biscuits with crab fat butter at Toups South. Roughly. $6
Fluke suffers from a tough name and isn't much to look at, either. Until it lands in Bradley Kilgore's hands at Miami's Alter. Then it becomes a bright fluke mosaic graced with Indian accents, roasted avocado and tomato hollandaise. Still nothing much the guy can do about the "fluke" part. On $69 to $89 tasting menus.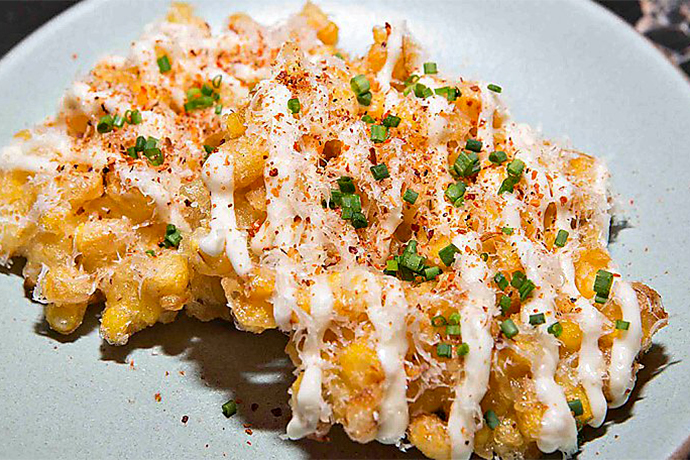 Lest you misplace a single kernel of Mexican street corn, Chicago's Proxi binds its elote with tempura batter, adding chile, shaved Parmesan, Kewpie mayo and dehydrated lime for a swift kick to the palate. $8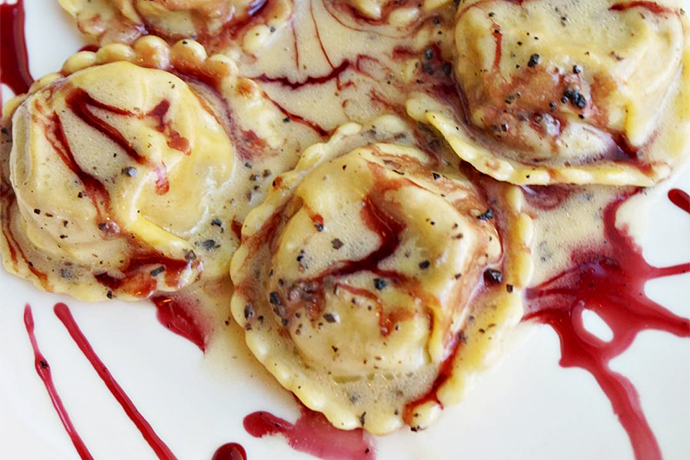 Smoked brisket ravioli with Barolo sauce and black truffle butter. We could say more about Matt Adobo's vision at Manhattan's Pig Bleecker, but we imagine you're suitably convinced. $24
And lastly, we come to a French onion soup grilled cheese from Chef Roble Ali. And for making you so hungry over the last 10 dishes, we've even included the recipe so you can make one immediately. Or sooner.
French Onion Soup Grilled Cheese
Serves 6
Ingredients:

—4 ea large yellow onions, peeled, halved and sliced into half moons, about 1/8 inch
—6 Tbsp butter
—3 Tbsp extra virgin olive oil
—1 ½ Tbsp fresh thyme leaves
—½ C beef broth
—1 ½ lb Gruyere cheese, shredded on large grate
—12 ea sour dough or rustic loaf, thick cut slices, about ¾ inch
—1 Tbsp Italian parsley, roughly chopped
—Kosher or sea salt and pepper
Method:
1) For grilled cheese, add 2 tbsp of butter and olive oil into a medium sized heavy bottomed pot over medium high heat. Add the onions and thyme. Stir onions frequently at first until they wilt down. Add salt and pepper. Allow onions to brown on the bottom of the pan. Turn heat down to medium and stir every few minutes to prevent burning. When onions are browned, about 30-40 minutes, add beef stock and allow to cooking down and absorb into the onions until they are not watery.
2) Remove onions with a slotted spoon and cool at room temperature or refrigerate for later use.


3) To assemble, melt remaining butter. Evenly distribute onions on 6 slices of bread, top each with the shredded cheese and slice of bread. Brush one side of each sandwich with melted butter and place buttered side down on a pan on medium heat. Brush other side of the sandwich and cook on each side until the bread is golden brown and crisp.
4) Allow the sandwiches to rest on a cutting board for 1 minutes, cut in half and serve with potato salad. Finish sandwiches with chopped parsley and freshly ground black pepper.