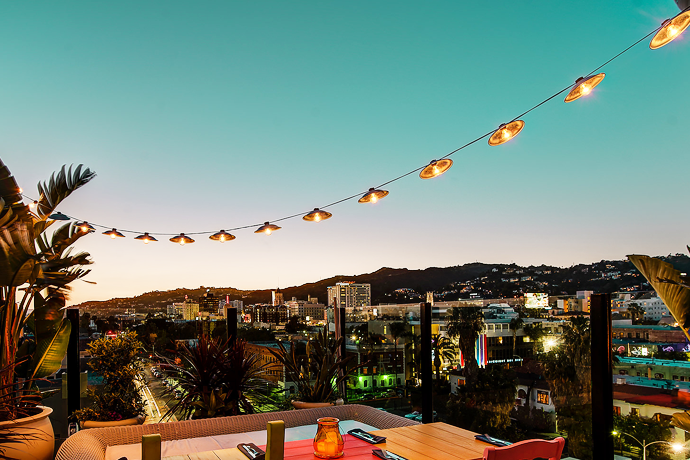 Los Angeles.
This is a place that knows how to summer.
It gets lots of year-round practice lying around pools, drinking margaritas in the sun and eating celebrity sushi by the beach.
And now, you just have to follow this small guide to live like this, too.
This is how you'll summer in LA.
The city's margaritas of the moment:
Come straight from the taps at
Salazar
in Northeast LA's Frogtown neighborhood.
This summer, everyone will spend afternoons:
Over A5 Wagyu and a nice chunk of the Pacific Ocean at
Nobu Malibu
, and with deer burgers, post-gallery-hopping over at
Manuela
, a Southern-slanted restaurant raising its own chickens in Downtown's still red-hot Arts District.
Speaking of Downtown:
You can't avoid the costumed hordes at the be-all, end-all of video game conventions,
E3
, from June 13 to 15... though you should make haste to hit
FYF Fest
from July 21 to 23, if watching Iggy Pop, Missy Elliott and Björk headline a major music fest that isn't Coachella is appealing.
Oh, and speaking of the arts:
You'll want to make time to check out
A Universal History of Infamy
, a project taking place across various museums and arts sites detailing innovative work from 16 intrepid Latino and Latin-American artists.
Because you'll need a bed at some point:
Downtown, there's the new 14-room
Tuck Hotel
, a serene, European-style hotel with a great Iberian-accented brunch. If serenity's not on your agenda, the trendy
Dream Hotel
has its own Beauty & Essex, Tao,
Avenue
nightclub—and hopefully some aspirin in the morning.
Now, if you need a bird's-eye view of the scene:
Mama Shelter's Rooftop
in Hollywood has unmatched Hollywood views and good falafel. While
Ace Hotel's Upstairs bar
is a perfect place to work along striving screenwriters by day and sip from punch bowls at night while scanning the city below.
Or if you need a pool:
The
Chateau Marmont
is still the way to go for all the good LA poolside stereotypes. Can't mess with a classic. Although the skyscraping rooftop pool at the
W Hollywood
just started letting a tight number of non-guests in each day as well.
But if you're happy merely rubbing elbows with the most beautiful people on earth:
It's the new
Mezcal Bar
hidden within West Hollywood's Laurel Hardware, an agave-fanatic cocktail bar that looks like a timeless Upper East Side Manhattan haunt.
If you like a good reveal:
The Houston brothers'
Black Rabbit Rose
in Hollywood has a magic show. If you don't like literal magic, there are smoking cocktails and Thai food.
And if you crave the challenge of a hard-to-acquire reservation:
Look no further than
Delilah
, a gorgeous Hollywood dining room where Drake is known to pop in for lamb chops.
Or whatever Drake eats.