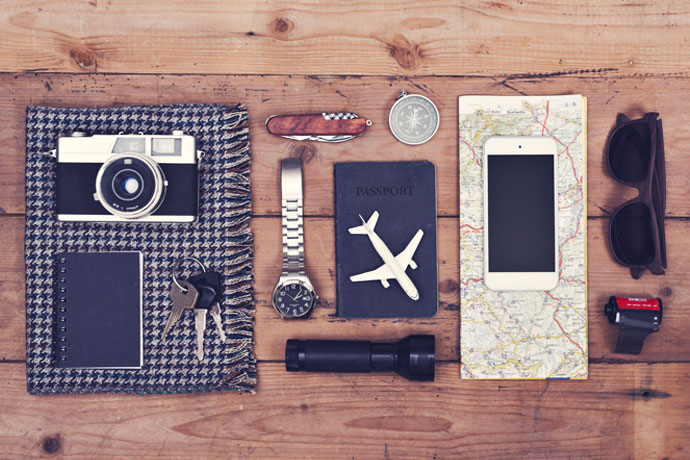 Getting ready for summer is more than just buying swim trunks, running an extra mile on the treadmill and booking a couple of trips to exotic beach locales. You know, to make those first two activities matter.
It's also about acquiring the marvels of technology that can rank and sort your camera roll, turn your snaps into vintage-style postcards and let you swap seats mid-flight. The types of marvels that'll make summer travel just that much better.
On that note...
The Roll
What it does:
Groups shots by topic, location or event, then places the most visually pleasing of each category up top. We trust its algorithms have good judgment.
When you'll use it:
That big group vacation with way too many people and way too many events to keep track of.
And then...
After, when you're deciding which of your 45 group shots to put on Instagram.
Seateroo
What it does:
Lets you swap seats with other people on your flight, for a mutually-agreed-upon price.
When you'll use it:
When the seat next to the attractive someone-rather in 16C is looking a lot better than the middle seat you got stuck with after booking that last-minute flight.
Or...
The option to bid on seats remains throughout the duration of the flight, so if there's a particularly loud or young passenger in your close proximity, well, you have a way out.
Hippo
What it does:
Connects you with some top Instagram artists and photo editors who can make your shots especially worthy of double-tapping.
When you'll use it:
When you've got the perfect photo of a skyline, but it's still just a photo of a skyline.
Or...
If you happen to be a solid photo editor with some time on your hands.
Relay
What it does:
Allows you to create a custom map, dotted with all the restaurants, coffee shops, museums, theaters and whatever else you want to visit during your trip.
When you'll use it:
Whenever you've got a hell of a lot of "musts" on your list.
And then...
When you're actually in your destined location. Yeah, you can use the map for directions and to check what spots are closest to you.
Sqgl
What it does:
Turns whatever photos in your camera roll are worthy of being vintage-looking postcards into vintage-looking postcards. Prints them. Sends them.
When you'll use it:
When your shot of Notre Dame is just so much better than those on the 3,000 existing Notre Dame postcards. Happens.
Or...
Whenever you want to appear to have made that extra effort, without actually making that extra effort.