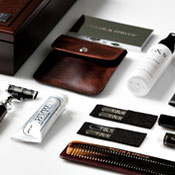 FROM PERKS
—Comb carved from horn kept in a leather sleeve.
—Weighted razor and shea butter shaving cream.
—Leather-wrapped manicure set.
—Deodorant, lip balm and lotion.
—Charcoal toothbrush and whitening toothpaste.

There. Now you know a few of the essentials that'll come in this handsome, polished walnut or rugged nylon grooming kit.