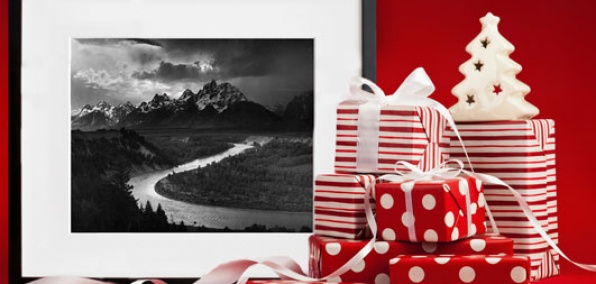 So you're thinking about giving someone the gift of art this year.
Wow, great idea. Bold, even. Good for you. You're so sophisticated.
Now come the harder parts: what to buy and where to buy it. Oh, yes. Those little details.
Well, art is a big topic. So we're going to make some general assumptions. For one, since that Modigliani just went for $170.4 million, it's off your list. But we'll also assume you don't want to spend that much.
You also probably want to keep your focus on the contemporary art world and photography—it's a big space to play in, but keeps you away from tacky art-glass fairs and the Old Masters market.
So here's our five-step guide to aiming you in the right direction in purchasing.
1. Ask: will this person like art?
If this person you're buying for is an art collector, you may think indulging them with something from their favorite artist is probably a no-brainer. Until you realize that a collector probably has their own aesthetic, their own rules for buying, their own opinions on what's good and bad. So unless they've told you about a specific piece they want, keep around the ancillary. Think about art books of their favorite artist—or even rare gallery catalogs that feature the art they collect.
Now, for that person without
any
art on their walls—they're the perfect blank slate and therefore a safer bet. But to help you narrow your focus, veer toward subject matter that keeps it relevant to their life.
2. Set a budget.
So, you don't have Modigliani money. Fine. But coming up with a ceiling of what you're willing to spend is useful to help you focus on what you can afford. When it comes to the lower end, look for something from a multiple dealer—those are limited-edition or mass-produced art objects by established artists. They can clock in under $50—and then increase in value.
3. Pick your medium.
Photography. Sculpture. Drawings. It's a tough call. So take a look around your giftee's space. What do you think they need? That is a start. But word of warning: you're not their decorator, so you may want to start with a smaller-scale work.
4. Don't be hurt by their first reaction.
Yes, art is personal. And, yes, contemporary art can be weird. But don't let an immediate what-the-hell-
is
-this face worry you (well, too much). When you give artwork, you get the chance to explain a bit about the artist and why you thought they would love this work. It's the thoughtfulness that counts.
5. Know where to shop.
You can probably walk into any local art fair or art-student show and pick up
something
, but a little curating goes a long way. So beyond local art galleries, here are some great places to start.
Fuseworks:
Great for multiples. We're fans of
Christina Kelly's ode to a Greek diner
: paper cups with "It's Our Service to Pleasure You" written on the side. Your barista may like one.
Gagosian Shop:
The famed NYC gallery also has an online shop featuring affordable original works, rare catalogs, limited-edition decor and the occasional
limited-edition Basquiat plate
.
Saatchi Art:
The online (and much more affordable) shop to the vaunted gallery—with a nice holiday
gift guide
ready for your browsing/purchasing pleasure.
20x200:
After a bit of a tumult a few years back, this website still offers a plethora of original and licensed art. They have a
gift guide, too
. And if all else fails, there's a gift card... but it doesn't look good in a frame.
Thumbtack Press:
Its range of off-kilter artists trends toward the slightly nutty end of the art spectrum, but this site does allow you to shop by color. Which is always a plus.
Culture Label:
A British purveyor of meticulously edited artworks like limited-edition
Alexander McQueen deck chairs
and limited-edition rock-and-roll photography.