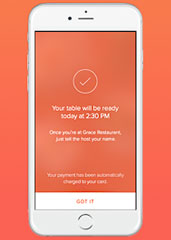 Whatever time you open this email:
You're sitting or walking somewhere, having already consumed your less-than-inspiring Monday lunch.
A few seconds later:
You're informed of a new San Francisco–based app and service called
Allset
, which allows you to make a reservation at a nice restaurant and preorder your lunch so your food arrives at your table when you do. It's available now for iOS and Android.
And now that you're armed with that knowledge, let's fast-forward to tomorrow...
8am:
You wake up with a craving for ceviche from La Mar. Or a fried-chicken sandwich from Prospect. Or something else equally specific.
8:15am:
While singing in the shower, you realize lunch might be better with a date. You often realize such things this way.
8:40am:
En route to the office, you download Allset, upload a photo and the requisite billing information, and make a reservation for two at La Mar, Prospect or one of 10 other lunch-appropriate establishments (more to come soon). Then, you select your dishes, prepay and proceed with living your life.
9am-noon:
Stuff. Things.
12:01pm:
You and your date sit down at whichever restaurant you chose.
12:03pm:
Your lunch magically and instantly arrives. By which we mean your server just... brings it to you.
3:52pm:
Your desk misses you terribly.