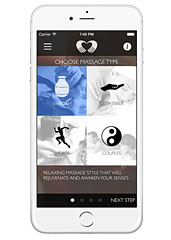 Massages are pleasant.
Massages that come to you are also that.
Massages that come to you even if it's midnight and you're in your living room and you just requested one an hour ago are...
Well, they're probably a result of having used
Soothe
, an on-demand massage app and service that'll dispatch a therapist to your location pretty much whenever, available now for iOS and Android.
If you're feeling tense, or you think you may be feeling tense sometime soon, you'll proceed like so:
—Download the app and enter your info. They'll store it for future payments and gratuities and things.
—Choose a Swedish, deep-tissue, sports or couples massage.
—Settle on a time—they're doing this thing from 10am to midnight. Pre-brunch massages. After-work massages. Massages with company. We trust you have some ideas.
—Warmly welcome the therapist to your humble abode. (Or office. Or hotel. Or...) They can usually be there in under an hour, and they'll bring the table, towels, oils and whatever else along.
—Be massaged.
That last step was potentially implied.