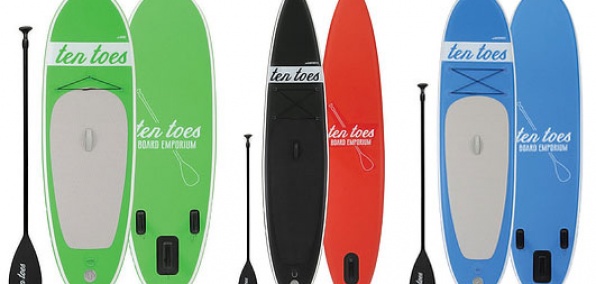 The most amazing thing you can obtain today: a Jayson Werth Chia Pet.

The second-most amazing thing: a blow-up paddleboard.

Because here comes Ten Toes Board Emporium, a new line of inflatable (and therefore portable) stand-up paddleboards, now available online.

First thing you should know: this is the resurrection of a 1960s surfboard brand. Which is nice, but it's not the most important thing. The most important thing is that these boards collapse to the size of a duffel bag.

Which means you can call a cab, throw your board in the back and tell the cabbie to stop when you hit the Potomac. Or hell, throw it in an overhead bin and stop when you hit Hawaii.

When you alight, you'll inflate it with the included pump. It's all military-grade PVC fabric stitched together with something they call "space yarn." This means it's not only durable, but it feels and performs just like a standard-issue board. (Also, you now have space yarn.)

You can get an eight-foot model for beginners, a 10-footer perfect for paddleboard yoga or a 14-footer for experienced paddlers. Yeah, they all come with a paddle.

The paddle is not inflatable.