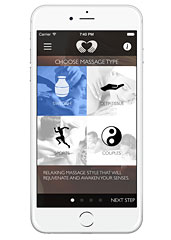 You seem tense.
Here, allow us...
Better yet, allow
Soothe
, a new service that's dispatching on-demand masseuses (or masseurs) to your location because that's just a great idea, available now via web and iPhone app.
So, massages. On the list of things that are good in this world, they rank near the top. But getting one when you want: not always easy. And actually driving somewhere to get one is also not the best.
But now this exists. And this lets you stay exactly where you are (home, office or elsewhere) while a masseuse comes straight to you. Here's how it works.
1.
Sign up. Then choose your preferred massage type. Swedish, deep tissue or sports. You can even get a couples massage, should that be of interest.
2.
Pick your desired time—they operate from 9am to midnight, and someone can usually be there within an hour.
3.
Get massaged. For 60, 90 or 120 minutes. Whatever you need.
4.
Feel better.
5.
The end.
Wait, one more thing: don't even worry about paying. Well, you still have to pay, obviously, but you'll pay a set fee right through the app.
Okay, now... now it's the end.