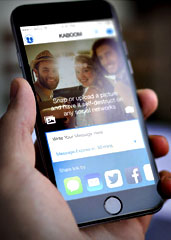 Ideally we'd all learn to make better decisions.
But in the meantime, let's just mitigate the bad ones.
Take baby steps with
Kaboom
, a brand-new app that lets you send messages, share photos and post to social media with a built-in self-destruct time, now available for iPhone and Android.
It's not the first app to destroy your sensitive correspondence. But it does happen to work across all platforms—texting, email, messaging apps and social media. Convenient.
So what you'll do: download the app. Pretty obvious first step. Then do whatever it is you'd like to do. Post something on Facebook... share a maybe-I-shouldn't-be-sharing-this photo... whatever else. The app will create a temporary link to house your note, and you'll set a destruct time ranging from one minute to several hours or even days.
When the time's up, the link expires and your message disappears into the ether.
Or whatever the digital equivalent of ether is.