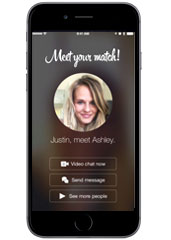 You catch a stranger's eyes.
Your shared gaze says so many things.
Of all the nights, of all the people, of all the places, the two of you crossed paths here. Now. Tonight. Wow.
This may be the start of something.
Something truly spe—
Low Battery: Less Than 20% Remaining
.
Right. The eyes are inside your, uh, here's
Flutter
: a new dating app that's basically a live video feed where you'll silently gaze into a random user's eyes in your iPhone. It's available now.
There are no profiles involved. No names, no bios. None of that. You won't know anything about these people. In that way, it's exactly like making eye contact with someone on the street. In all other ways: not like that at all.
Once you sign up, your screen becomes a live feed of your face. Wait for it. You'll be matched with someone else, and you'll see them just kind of sitting there, as they see you doing the same.
Someone might smile. Wave. Do some sort of quick PowerPoint presentation? And then everyone swipes accordingly. If there's a match, you can start chatting.
Note: there's a strict clothing-required policy.
Again, just like meeting someone on the street.