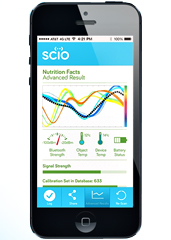 Well, look at that.
The future just decided to show up today. How nice.
And it looks like... a garage door opener.
Huh.
Meet
SCiO
: a pocket-size sensor that can scan just about anything and have its chemical makeup sent to your smartphone, available for preorder now and shipping in October.
Let's acknowledge that this is some crazy, next-level sh*t. Okay, yes—on the outset, it looks like an unassuming, tiny machine... that can read any object with its optical sensor and built-in spectrometer to deliver every shred of available information to your awaiting smartphone.
No big deal.
You can probably imagine that this has more than a few uses. Let's put it to work on...
1) Food. All the food.
Point it at an apple. An avocado. That Unexpected Cheddar from Trader Joe's. Doesn't matter. It'll give you all of the nutritional facts and let you know if it's reached peak ripeness. Nothing worse than nonpeak cheddar.
2) Random things lurking in your medicine cabinet.
Cooking seasoning or... something else. Let this thing decide.
3) Jewelry.
Soon, it'll be able to tell you which pieces are the real deal or not.
Uh-oh.