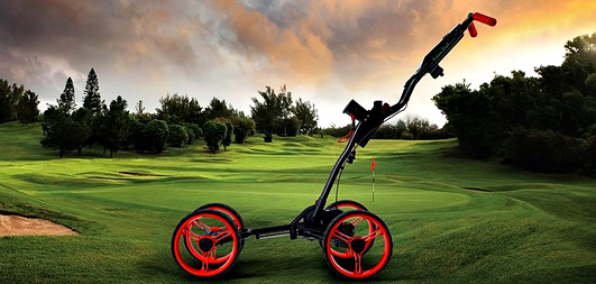 Beer carts.

Caddies.

Pleated white pants.

Yep. Golf definitely feels like the type of sport that would inspire a robot bag cart to be invented...

Exhibit A: Easy Pal—a new device that sounds like something Michael Corleone would say to Fredo, but is actually a golf push cart that automatically folds up and down when you press a red button. It's available now.

The time: high noon. You're about to hit things with great force. But wait. There's stuff to do first. Like pull this thing out of the trunk and place it on the ground. Brilliant.

And then:

What you do: Push the red button.
What it does: Unfolds itself within 10 seconds—and its battery lasts about 20 rounds.

What you do: Fill it with various golf necessities like clubs and balls and an umbrella and adult refreshments.
What it does: Distributes their weight evenly so you can pivot and steer around with ease. Like a tiny, hand-pushed golf SUV.

What you do: Golf.
What it does: Just sort of sits there.

What you do: Finish golfing. Push the red button again.
What it does: Folds itself back up within 10 seconds.

What you do: Be all appreciative.
What it does: Nothing. It's a cart.