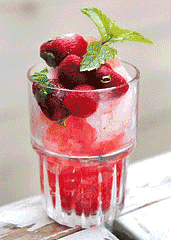 Let's quickly recap the coming week's weather forecast: 90, 97, 95, 93, 90, 91, 93.
You're probably going to want some ice. Shave ice, to be exact.
And no, we don't mean just for dessert.
What we mean:
Savory Shave Ices
, now in rotation at the bar at EatsPlace on Georgia Avenue.
Picture the electric-blue stuff you've had at state fairs. This is the opposite of that. First off, it comes from a rarely seen Japanese ice shaver that turns a giant wheel of ice into soft, smooth layers of snow, probably best measured in microns.
And then the toppings. Oh, the toppings. Like parmesan cream, which gives your ice a salty, fatty kick. Or tomato, which creates essentially a mound of slushy gazpacho.
From there, things get a little more intense. Like a shave ice doused with EatsPlace's own black-bean hot sauce, and another with Korean chili sauce and cold noodles.
Of course, there are some sweeter flavors, too. Like peaches in red wine or pineapple ginger. And spiked versions, like the
Guapo Apo
, available this weekend, which combines the ice with vodka, cane syrup and tropical fruit puree.
Like they weren't going to pour booze on the stuff.