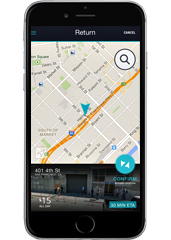 You know what's barrels of fun?
Finding parking.
It's just the best.
Oh, by the way, we've decided to tell you obvious lies today.
Except about
Zirx
, an on-demand valet that comes and parks your car for you via app, now available for iPhone and Android and launching here tomorrow.
First, a disclaimer: for now, this is only available in Brooklyn between Dumbo and downtown. But expansion and more parts of the city soon and yada yada yada. You know how these things work, and you should know about the app now.
On to the nuts and bolts. Ten minutes before you get where you're going, drop a pickup-location pin on the app. Then someone comes, meets you and tells you they're with Zirx. You tell them their app sounds like when Batman hits someone, they chuckle and take your car. Time passes. You live your life, free of parking-related stress.
Maybe you asked them for an oil change or a wash during the life-living. They do those things. Then, 15 to 20 minutes before you want said car back, you drop another pin where you are and it'll return.
Again, really sorry you don't get to find parking anymore.