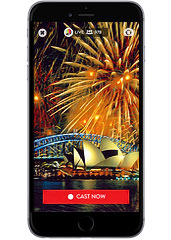 "In the future, everybody will be world-famous for 15 minutes."
—Andy Warhol
"Huh? Sorry, what? I missed that last part. I was looking at my phone."
—Everyone in the future
So our tiny attention spans have finally come to this:
Outcast
, an app that can make you (relatively) famous, but only for 15 seconds at a time, now available for iPhone.
Short story even shorter: think Vine, unedited. Think Periscope, abbreviated. Then think this.
What makes this great is its spontaneity. No clever editing tricks. No retakes. It's all live. Something you'll fire up on the fly the next time you feel yourself about to be funny. Or foolish. Or a combination of the two.
Your shenanigans are then looped in with everyone's uploaded clips in one continuous stream. People will get to vote as to whether your little antics make them smile by hitting a star button. The more people like you, the longer the videos you will be allowed to make going forward. That means by the time this is all over, you may be livestreaming your own sitcom.
Which will naturally be a
Perfect Strangers
reboot.