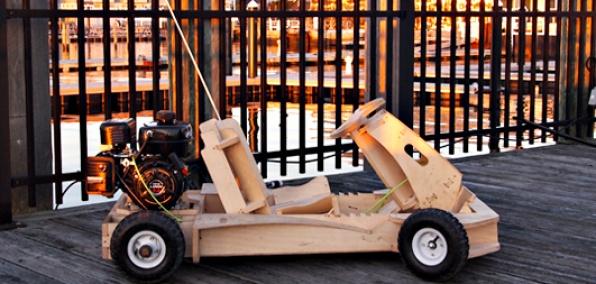 Here's a wooden go-kart that you'll assemble at home and then rip around on like you're 12 and at a theme park, but really you're an adult and you're on a beach or a trail or a salt flat, so...

Happy Friday?

The object of your summer affection shall come from The Flatworks, fledgling purveyors of the gas-powered, DIY, wooden go-kart that you'll soon drive around with great glee. They're taking preorders now and shipping in July.

Soon, three boxes will arrive at your doorstep containing a bundle of wooden parts, some hardware and a gas engine.

The bad news: you can't drive around sitting on top of three boxes. The good news: they contain everything necessary for a classic wooden go-kart that goes up to 25 mph.

It'll happen like this:

—You'll grab a wrench and a beer and take those boxes out to the garage or wherever.

—You'll pop out the precut plywood pieces, follow the included instructions and piece everything together sort of like a puzzle.

—In about a day's time, you'll have a super-sturdy, lightweight thing that you can drive around in all fast.

—Then presumably you'll drive around all fast.