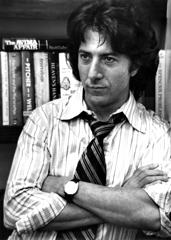 There you go again...
Not learning how to act from Dustin Hoffman.
And not learning how to serve from Serena Williams.
And generally not knowing about MasterClass.
We can fix this. It's a new site featuring a bunch of immersive lessons taught by famous people like the ones up there as well as some other famous people, and it's online now.
These little courses are pretty ideal if you'd like to start doing things better than other people do them. They'll manifest themselves in short-video form with supplemental exercises and stuff like that.
So...
Maybe you're auditioning for one of the next 1,762 Marvel movies.
Or whatever. Good on you. Jump on the site and suddenly you're watching Dustin Hoffman talk technique. And saying "sh*t" a lot. And being Dustin Hoffman.
Maybe you're joining a country club.
This is ideal, because at country clubs you play tennis. So does Serena Williams. She'll teach you how to approach the net. Volley. Smash. Grunt. Not really grunt.
Maybe you're doing none of those things.

But you want to write. You want to write a novel. Well, James Patterson's in there, too.
Oh, and Annie Leibovitz's class is coming soon.
People take a lot of pictures now, so...