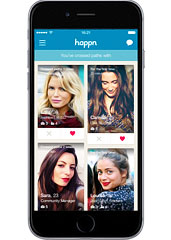 There's that intriguing person you cross paths with all the time. In the coffee shop. On the subway. At your tax accountant's office.
You don't know them. They don't know you.
You'd like to change that.
Your phone can help.
As long as it's armed with
Happn
, a new app that helps you meet people you pass by in real life, now available in DC for iPhone and Android.
Think of this as a virtual Missed Connections listing. Only more immediate. And less 1999. Or think of it like Tinder, but only with people you might recognize.
At any rate, here's how it works: you'll create your profile. Other users will create theirs. Then it will show you the other users with whom you've crossed paths (it'll even tell you how many times your paths have crossed).
If a user looks like the kind of person you might like to meet, then you know the drill: like their photo. If they like yours, too, then it means the courtship gods are smiling upon you and all is right with the world.
If not, well, maybe put on a suit or something.