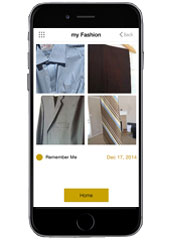 Wearing clothes...
Between going to work and not getting arrested, it's still a pretty essential function of your day.
So it's nice that someone just went and made it easier on you.
Do less with
MyDiModa
, a local app that analyzes your wardrobe and recommends things to wear because that's the age we're living in, now available for iPhone and Android.
In short, a Dallas guy created this app to help you pair together nice-looking combos from the clothes you already own. Which is better than the alternative of him physically dressing you.
It works thusly:
1. Download the app.
2. Start snapping photos of your clothes.
3. Upload those photos within the app to a few designated categories like shirts, pants and jackets.
4. The app will use some fancy algorithm to determine colors, patterns and what goes with what.
5. Click "Style Me" and choose whether you're going to a casual event, a nighttime function or something formal. Then this thing takes over and recommends what you should wear based on your uploaded wardrobe.
6. Get dressed.
7. Go about your business.
8. Come home.
9. Have a snack.
10. The end.