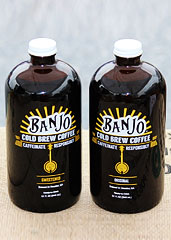 Take a bow, hot coffee.
You did good.
You did real good.
That was dramatic. But still, here's
Banjo Cold Brew Coffee
, a self-explanatorily named new form of low-temperature coffee that's bottled in Decatur and now available at Oakhurst Market and the Market at Avondale (and soon, a bunch of other places).
No one's saying your step needs more pep or anything else that rhymes. But this coffee comes in a big bottle and is brewed locally and is ice-cold and is going to be nice on days when it's 86 degrees outside. Like today.
And yeah. There you go. It comes in sweetened and original, and when you drink it, it wakes you up.
So you'll take some with you on a hike. You'll come across a babbling brook and sit next to it. You'll pop a bottle and think to yourself, "Water would've been a better decision."
That's just one example, though.