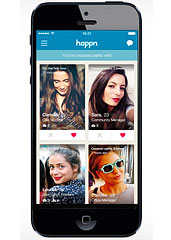 All these dating apps are silly. You don't need a device to talk to a beguiling stranger.
But... now your curiosity's piqued.
So take a look at
Happn
, a new app that fuses the "usefulness" of Tinder with the happenstance of a Missed Connection, now live in Miami.
We're sure you've got questions. Fire away.
So it's like Tinder and Missed Connections?
Yep. That's what we said.
Wow, great. Thanks. Can you be more specific?
Sure. Like Tinder, it pulls your info from Facebook to create your profile. But the app also uses geolocation and works in real time. Meaning, when you cross paths with someone who's using it, their profile pops up showing the time and location of your encounter.
Got it. But how will I know if it's a "connection"?
You both have to like each other's profiles before a match is revealed.
Okay, but what if I want to let someone know that I'm interested?
You can send them a "charm." It's a notification that gets sent to their phone.
Or, you know, just introduce yourself.