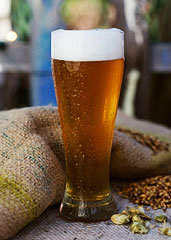 Friday night. You and your date arrive at Community Smith.
"We've been here before," they say.
"Nope," you insist.
"There's something new on the roof, isn't there?" they ask.
"This is a fake conversation. Otherwise no way you'd know that," you whisper as you make for the stairs...
Because suddenly, they lead to
The Garden at Community Smith
, a new and elevated promenade for enjoying the sun, the moon, the cold refreshments and the grilled meats, opening Friday in the former Rooftop 866 space in Midtown.
It's just above Community Smith, but it's also kind of its own place. Once you're up, take in the huge expanse filled with spiral topiaries, a waterfall wall and views of Midtown. Then proceed directly to the big seating area across from the covered bar.
One side's good if there's rain, the other if there's not. Both are great for
Mezeritas
with mezcal, tequila and agave. Or for the 15-plus beers on tap. And maybe you're hungry. Maybe you think some
merguez sausage with smoked almond crema
would go well with those beers and those cocktails. Sound thinking.
And once things get a little warmer, you'll appreciate the cool-mist-blowing machines stationed all around.
Because they blow cool mist.