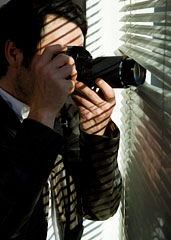 We're sure you'd never want to use something like this. Probably never. Yes, we're mostly sure you wouldn't. Maybe.
But in case you want to know for a friend, here's an app that provides on-demand private eyes.
It's called
FlimFlam
, and it's now available for iPhone in DC only.
This is basically the app equivalent of "a guy who knows a guy." They maintain a stable of local private investigators, all of whom they've vetted with a background check, interviews and training. Then, when someone (not you; never you) comes along who needs their services, they send out the right Sam Spade, Magnum, P.I., or Ace Ventura for the job.
As for those services, you'll pay a flat fee of $150 to have your investigator show up at the time and place of your choosing, and run surveillance on anyone or anything. Like a congressman's interior decorator, for instance. Or a Russian operative. (Okay, bad idea.)
They'll report back ASAP with whatever photographs or other evidence they've collected.
Now if you can just get rid of your KGB tail.