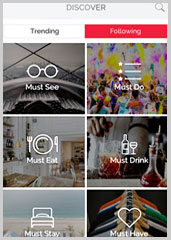 Some discoveries must be shared for the good of all mankind.
Like penicillin. That was a good one.
Or that taco place from last night. That was a good one, too.
The point is
Must
, a new app that asks you to recommend the best things in life through photos to other people and vice versa, available now for iPhone.
Imagine, if you will, that Yelp and Instagram had the power to reproduce themselves asexually and then join forces. Strange: yes. This: also yes.
Once you download it and make a username, you'll start scrolling through people's photos of Europe and lunch and such. But when you double-tap an image, you "must" it. And it gets sorted into one of your six "must" lists—must see, must eat, must stay, must do, must have and must drink. We promise to not say "must" again.
And when you're in a sharing mood, you'll upload an image—say, that photo of Maine's greatest undiscovered crab shack that's conveniently on your camera roll—and place it in the most fitting of those categories for your followers to...
Not saying it.