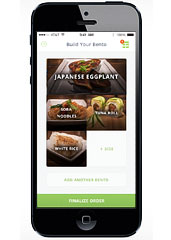 Lots going on out there today.
Green beer. Shots. Probably a fair amount of unfortunate wooing.
Wouldn't blame you if you wanted to just pull a beer out of the fridge, get on your phone and order a bento box from a
Top Chef
vet.
Bars will still exist tomorrow.
Until then, there's
Bento
—a new app that delivers you bento boxes and only bento boxes, because sometimes for dinner you just want a bento box. It's now available for iPhone, and Android is coming soon.
Your new bento guy: he's named Mattin Noblia. Right. He opened Iluna Basque in North Beach. But now: bento boxes.
Your options will change daily, but you'll always have a choice of main dish (say, Mongolian beef, black cod, kimchi fried rice) and four sides—say, ginger chicken wings, egg rolls or sushi. And if you want all four of your sides to be ginger chicken wings, nobody will fault you for that.
Their goal is to get it to you in 15 minutes. You can see the driver's status on your phone, and you pick it up curbside so it's hot.
Parking could really take down this whole concept.