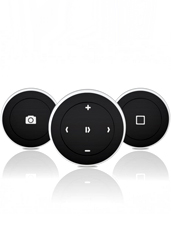 Driving, changing songs, making calls and taking pictures all at the same time is impossible.
Sorry.
MythBusters
busted it. Plus the whole safety thing.
This should help.
Because this is the
Satechi Bluetooth Button Series
, a new set of magical devices specifically engineered to help you do stuff on your phone without actually doing stuff on your phone, now available online.
There are three of these buttons, and each one is responsible for a different life-simplifying task. What follows is a few examples of how your new, simplified life will unfold...
You're in your car. You attach the Home Button to your steering wheel, press it to activate your phone's voice control and say something like "Take me to a bike trail." Hey, there's a map.
Upon arrival, you'll grab your bike, clip the Media Button on the handlebars and select play. Papa Roach comes on. You'll tap the button to change songs. Life continues.
You're taking a break from your ride. A majestic bald eagle starts eyeballing you from behind, but your phone's all the way over there. Grab the Shutter Button from your key chain, press it, and an eagle selfie happens.
Note: this will never happen.