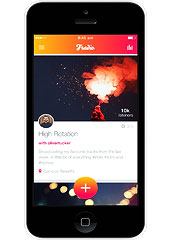 You had big plans for yourself as a child.
One day, you'd become a fireman. Or a superhero. Or an astronaut. Or a syndicated radio host.
Ah, the old slip-the-syndicated-radio-host-reference-into-an-otherwise-normal-dialogue trick...
Beaming you through the airwaves is
Fradio
, a new app that allows you to create a live radio show, stream music, gain fans and communicate with those fans in real time, now available for iPhone and Android.
It's not unlike Pandora or Spotify in the sense that you can select specific artists or songs and build a playlist. But unlike those, this allows you to communicate live with your listeners while broadcasting. (And they're about to randomly release 80 new artists in 80 days, so there's that.)
If you like a certain DJ, start making requests. It's okay, they take those. And after creating your own broadcast, so will you. A listener can open the app, use the mic on their phone and say, "Hey, DJ, this is Reece from Topeka. Let's hear some Prince."
When your current song ends, you'll hit the microphone button and say to everyone listening, "This one goes out to Reece in Topeka. Grab your umbrella, Reece... here comes some 'Purple Rain.'"
Never say that.