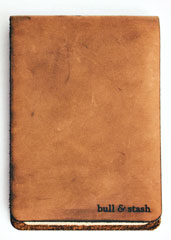 "Nothing ever lasts forever."
Tears for Fears said that.
And Tears for Fears, God bless their precious '80s hearts, were wrong.
At least in the case of
Bull & Stash
, a new mélange of leathery wonder-notebooks that never fall apart and never run out of pages, online now for your perusing pleasure and restocking February 23.
Notebooks. You've had a few. And whenever you've exhausted their page count with highly precise sketches of the Sistine Chapel and/or experimental chili recipes, they pretty much became useless to you. No more.
Because here are some thoroughly old-school pen-and-paper notation devices made from thick, oiled leather that would have been right at home in Hemingway's back pocket.
With one crucial difference: its paper is held in place with metal hardware and Chicago screws. So once you fill that final page, you can remove the spent reams and replace them with a fresh 30-page refill. In short, your notebook's immortal so long as trees continue to be things.
Now that you've got a notebook for life, you can give it a name. Go on adventures together. Get in trouble. Post each other's bail.
Though, it probably won't come to that.