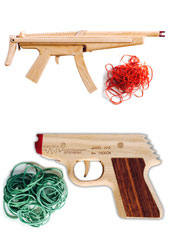 Look, there's no easy way to say this.
So, just... fancy rubber band guns.
Lock and load with
Elastic Precision
, a Kansas City–based workshop that manufactures high-powered weaponry except not at all because they actually just shoot rubber bands, now available online.
What a world. When you woke up this morning, you had no idea you were living a life unforgivably devoid of recreational firearms handcrafted from sturdy sugar maple to resemble anything from Bond's Walther PPK handgun to the MP5 submachine gun.
But we're learning, friends. We're learning.
And as part of that process, it behooves you to hop on the site and either choose from one of their six existing models or work with the craftsmen on some custom engraving and grips.
Then, just think of the possibilities...
—Pinging someone in the back of the head at the office for no reason.
—Leisurely battle reenactments in the park.
—Turning on light switches when you can't reach light switches.
—Warding off badgers.
Who lives somewhere with badgers?