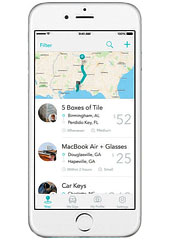 We all have needs.
Some are easy to fulfill, like a cup of coffee.
Others are less easy to fulfill, like obtaining a retired merry-go-round horse or a terrarium filled with Lunchables.
Point is: you've got
Roadie
now. It's a new Atlanta-based app that allows you to summon goods from anywhere in the Southeast and have them delivered to you by someone who's already on the way, and it's now available for iPhone and Android.
Basically, it's person-to-person delivery. Which tends to be more convenient than, say, FedEx or the USPS, what with the ability to receive items the same day and what with it requiring less currency to do so.
After logging on, you'll schedule a "gig" by entering what you need, where it is and where your vetted driver should deliver it. Then someone accepts that gig and brings it to you.
Some ways in which this might prove useful:
—Receiving your favorite beer that's not available in Atlanta. Or your grandmother's frozen lasagna from back home. Or a cooler.
—Obtaining an antique record player you found on Craigslist.
—Obtaining records for your record player.
—Hiding in a box and delivering yourself to Miami.
Driving would work in a pinch.